DCF Portable Magnet & Enamel Wire Strippers
Product Announcement from Eraser Company, Inc.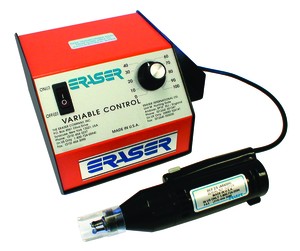 DCF Series Portable Magnet and Enamel Wire Strippers. A lightweight hand-piece is driven by a variable speed power unit, which controls three carbide stripping blades. This tool is ideal for repair as well as production stripping of armatures, coils, chokes, transformers, relays and solenoids.
35AWG to 9AWG (.14mmø - 2.90mmø)
Strip lengths from 3/32" - 2 1/2" (2.38 - 63.5mm). Drilled through models avalable for infinite strip lengths.
The DCF is available in several different models to strip round magnet wires as well as flat and rectangular magnet wires.
The unit is also capable of twisting material, such as stranded insulated wires..
About The Eraser Company, Inc.
The Eraser Company, Inc., celebrating over 100 years in business, manufactures a wide range of machinery that enables customers to manufacture, prepare, and process, wire, cable, and tubing products more efficiently, effectively, and profitably. The company is ISO 9001:2008 Certified, and their products can be found worldwide. For more information on Eraser's entire product line visit www.eraser.com or call 315-454-3237.
---