RT2S Strips Magnet Wire from 48 to 28 AWG
Product Announcement from Eraser Company, Inc.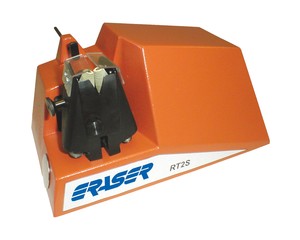 The RT2S Magnet Wire Stripper from The Eraser company strips fine magnet wire from 48 to 28 gauge through the use of rotating fiberglass stripping wheels. Eraser's unique cone shaped fiberglass wheel design makes close up stripping possible on all types of components and film insulations. The use of fiberglass wheels instead of blades allows for friction to whisk away the insulation without any damage to the conductor. Eraser offers a range of fiberglass stripping wheels depending on your wire size. A wheel dresser can be used to help prolong the life of the fiberglass stripping wheels. The RT2S comes equipped with a dust take off port for environmental health and safety. An adjustable strip length stop allows for consistent strip lengths.
Wire Sizes:
Maximum: 28AWG (0.33mmø)
Minimum: 48AWG (0.030mmø)
Strip Length: 0 to infinity
Close-Up Stripping: Within 1/8"-3/16" (3.2mm-4.76mm) depending on size of coil body
Component Lead Diameter: 0.0012"-0.013" (.03mm-0.33mm)
Component Lead Lengths: Infinite-will clean to within 1/8" (3.2mm) of component body
About The Eraser Company, Inc.
The Eraser Company, Inc., celebrating over 100 years in business, manufactures a wide range of machinery that enables customers to manufacture, prepare, and process, wire, cable, and tubing products more efficiently, effectively, and profitably. The company is ISO 9001:2008 Certified, and their products can be found worldwide. For more information on Eraser's entire product line visit www.eraser.com or call 315-454-3237.
---