Product Announcement from Eraser Company, Inc.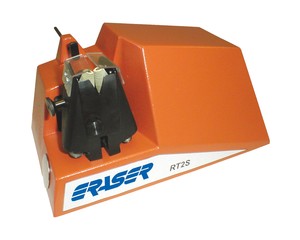 Eraser's Model RT2S Magnet Wire Stripper will strip most film type insulations including Formvar, ML, enamel, varnish, isonel and more from fine wires.
48AWG (0.030mmø) to 28AWG (0.33mmø)
Multiple wires may be stripped in one operation.
The conical brushes rotate at high speed to generate frictional heat which softens the insulation on the wire. The "nap" of the brush wipes this insulation away.
Stripping is quick and safe with no risk of contaminating the wire conductor. The stripping head is enclosed for operator safety.
A strip length stop produces consistent strip lengths.
Machine set-up is simple.
A dust take off port is incorporated into the machine.
Cleans and polishes leads of small electronic components and removes oxidation and other contaminants from leads as small as 0.0012" (.03mmø) diameter with no risk of deforming or nicking the lead.
About The Eraser Company, Inc.
The Eraser Company, Inc., celebrating over 100 years in business, manufactures a wide range of machinery that enables customers to manufacture, prepare, and process, wire, cable, and tubing products more efficiently, effectively, and profitably. The company is ISO 9001:2008 Certified, and their products can be found worldwide. For more information on Eraser's entire product line visit www.eraser.com or call 315-454-3237.
You have successfully added from to your part list.

Play RT2S Magnet Wire Stripper Video
---