WC601D Cuts Flexible Tubing up to 1.125
Product Announcement from Eraser Company, Inc.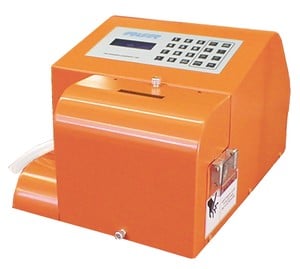 Model WC601D Automatic Tubing Cutter can accurately cut flexible tubing to a programmed length and number of pieces. Using a unique rotary cutting head, Eraser's WC601 series can process to tight specifications, such as those required for medical tubing applications.
The adjustable dual feed belts coupled with a reliable stepper motor drive system helps to produce accurate and repeatable cut lengths. The WC601D can cut material up to 1.125" OD to a length as small as 0.100", depending on the material.
A bushing set is required and is based on the OD size of material. Ten feed rate options allow the operator to choose the correct rate for a given material to optimize production rate, repeatability, and accuracy of the cut length. Programming of the unit is simple. A batching feature allows all variables for frequently run jobs to be pre-programmed. A kitting feature allows for multiple batches to be run consecutively. Quantities of 99 batches and 10 kits may be programmed.
The WC601D can be paired with one of Eraser's dereeling systems such as the DE700 Compensating Dereeler, which can help improve the accuracy and productivity of the cutting machine.
Visit www.eraser.com to learn more about Eraser's complete range of industrial cutting equipment. For more information, contact Eraser at (800)724-0594 or info@eraser.com.
About The Eraser Company, Inc.
The Eraser Company, Inc., celebrating over 100 years in business, manufactures a wide range of machinery that enables customers to manufacture, prepare, and process, wire, cable, and tubing products more efficiently, effectively, and profitably. The company is ISO 9001:2008 Certified, and their products can be found worldwide. For more information on Eraser's entire product line visit www.eraser.com or call 315-454-3237.
---