Product Announcement from Esterline Interface Technologies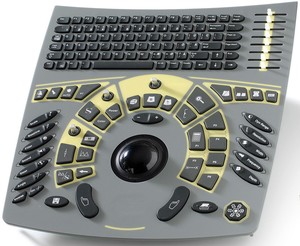 END-TO-END CAPABILITIES
Advanced Input Systems continues to take the user-input market into new areas by mixing technologies and innovations with proven interoperability and reliability. This allows designers to take full advantage of any technology customization.
CREATING MORE CUSTOMER OPTIONS:
Advanced Input Systems' diverse user input capabilities—proven across a broad spectrum of OEM markets—culminate in the manufacture of custom keyboards, controllers and multifunction data input subsystems. Our fine-feature devices incorporate multimedia, touch screens, audio feedback, cursor controls, displays, keypads and more.
By focusing on total solutions and total cost of ownership, we help OEM customers intelligently manage every phase of their product life cycle to deliver higher value. As part of Esterline's Interface Technologies Group, Advanced Input Systems completely manages your timeline and cost-control. Whether you need an experimental prototype or large production runs, we can partner at any level to:
Work with your application teams to assist in resolving design issues
Optimize your design for greater success
Run DFM product development / cost reduction analyses • Or develop entire project design-through-production
SERVICE LEADERSHIP:
Concept and specification development
Models and prototyping
Screen, pad transfer and offset printing
Elastomer compression molding
Mechanical, electrical and PCB design
PCB manufacturing and assembly
Surface mount technology
Class A stamping
Laser cutting
Automated assembly
Reliability and compliance testing
Project management
Product life-cycle management
PRODUCT SPECIALIZATION:
Control panels and handhelds
Custom keypads and keyboard
Sealed ruggedized keyboards
Integrated electronic systems
Integrated barcode scanners
Touch screens & controllers
User interfaces
Voice / speech recognition
USB interface & hub development
Biometrics support & integration
Laser marking: plastics, metal
Illumination and backlighting techniques
DESIGN:
Sub-system concepts
Prototyping
Design verification
Compliance reliability testing
Technology selection
System electronics
MANUFACTURE:
Global sourcing
Production engineering
Box build and test
Cables and handsets
PROJECT MANAGEMENT:
Standards compliance
On-time delivery
Configuration management
Product development process
Product life cycle management End-to-End Capabilities
END-TO-END OPERATIONS ENHANCE VALUE CHAIN:
Advanced Input Systems' mixed technology skills, extensive industry knowledge, world-wise workforce, facilities in the U.S. and U.K., and comprehensive engineering resources, all provide a unique platform to support every customer requirement. This allows us to reexamine the entire value chain where necessary—and completely manage your project cost control and timeline.
We help you keep pace with changing technological advancements and regulatory requirements by offering the largest and most comprehensive engineering capability in the input industry. Advanced Input Systems' wholly integrated process seamlessly connects your fiscal business planning today with your custom input device needs tomorrow.
END-TO-END OPERATIONS INCLUDE:
Design
Manufacture
Assembly
Delivery/Logistics
Training/Technical Support
Upgrade/Next-Gen Design
In-Touch Support Program
TYPICAL MARKET APPLICATIONS:
Agricultural
Banking
Broadcast
Educational
Industrial
Kiosk
Medical
Military
Point-of-Sale
Portable Computing
Retail
Supplies Management
Test & Measurement
Transportation
Others
ADVANCED THRUPUT DESIGN REDUCES RISK
Advanced Input Systems has developed a design methodology that makes device outcome reliable, predictable and cost-effective. The success of Advanced Input Systems' standard and application-specific products is based upon our comprehensive Advanced ThruPut library of designs.
Core building blocks from this reusable IP library share a common format for device development. This enables faster integration of technologies and greater manufacturing cost efficiencies—while protecting the integrity of your product. It's a proven methodology that customers find beneficial at start-up and later, during the next-generation design stage.
From short run projects to high volume continuance programs, our approach is simple: we can design and develop your product or we can take your design and develop your product. Either way, partnering with us significantly reduces risk, increases flexibility, and assures time-critical windows are met.
Working on projects as diverse as air traffic control, medical ultrasound, submarine-based sonar systems, and naval surface defense radar applications, position Advanced Input Systems to help identify, develop and support devices that customers need now, and years from now.
For over two decades we've been refining our uninterrupted flow of production techniques. And we continue to leverage extensive manufacturing and technical service capabilities to distinguish every input device - and customer.
You have successfully added from to your part list.
---