Small Category 4 Safety Switch with Big Features
Product Announcement from Euchner-U.S.A., Inc.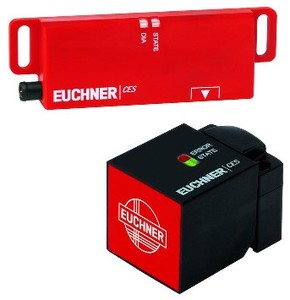 Small and Mighty
The CES-AR Safety Switch may be little but its capabilities are not. With a category 4 safety ranking, the CES-AR can be switched on from up to 20 mm away.
EUCHNER CES Category 4, Non-Contact Safety Systems are used to monitor the position of movable machine guarding by means of Inductive Coding. These systems are designed for use in areas where a high level of tamper resistance and safety is required. These systems feature an inductive read head, evaluation unit / safety module, and a digitally coded actuator. Unlike universally coded magnetic switches, the CES actuators are uniquely coded and cannot be bypassed by any means. The non-contact safety switch CES-AR C is suitable for systems on which a large number of safety doors need to be monitored. The small design of the actuator and read head (included integrated evaluation unit) allows easy mounting on the safety guard.
Due to the unique capabilities of this product, it is suitable almost anywhere where safety and reliability is of the utmost of concern
For additional product features and technical information please continue to our website.
You have successfully added from to your part list.
---