Enabling Pendant With Enhanced Functionality
Product Announcement from Euchner-U.S.A., Inc.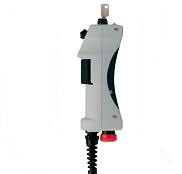 Designed to operate in only one position enabling switches causing a stop condition in any other position (in accordance with NFPA 79). In hazardous locations, the safety guard may need to be disabled an enabling switch allows for the machine operation to occur. Euchner offers two position (OFF-ON) (dead-man switch) and three position (OFF-ON-OFF) (live-man switch) versions fixed location styles and handheld. The three position dual channel model conforms to ANSI/RIA R15.06-2012 for Industrial Robots and Robot Systems.
The ZSM enabling switch is more than a trigger enabling switch. With modular design a large number of additional functions can be integrated including E-stop, LED's and a key-operated switch. A special feature of the ZSM enabling switch is the new vibration signal that tells the operator whether it is activated.
Click here to learn more, including product specs, typical applications, features and benefits and to download the product brochure.
---