Rope Pull Switch Makes Installation Quick & Easy
Product Announcement from Euchner-U.S.A., Inc.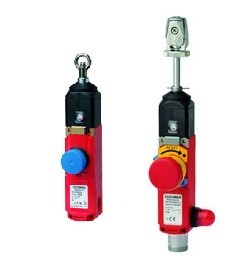 EUCHNER Rope Pull Switch (RPS switch) provide protection across large areas, compared to an Estop button. Operation is possible along the whole rope length, and not just a small area within reach of the switch. The RPS switch triggers with an increase (pulling) or decrease in tension (severing) of the safety cable or pushing of the E-stop with redundant safety and monitoring contacts. The RPS switch is Reset with a twist of the reset dial while proper rope tension is present. The RPS rope pull switch is then ready for operation. The RPS makes installation quick and easy with a built-in tension adjustment knob and rope tension indication window.
You may also be interested in our Metal Housing RPS
Click here to learn more, including product specs, typical applications, features and benefits and to download the product brochure.
---