Safety Interlock Slide Bolts from Euchner
Product Announcement from Euchner-U.S.A., Inc.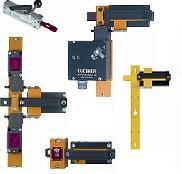 EUCHNER Bolts guide the actuator into the switch head and provide a layer of protection against physical switch damage. Wear is reduced, prolonging switch life and weight of heavy doors can be supported by the bolt instead of switch mechanisms. When opened, the actuator mounted on the bolt handle is pulled away or out of the actuator head of the safety switch. The opening of the NC contacts of the safety switch fulfils the applicable safety standard and permits access to the protected space.
In addition to standard bolts, Euchner also offers bolts with emergency release, in accordance with the EU Machinery Directive. These bolts facilitate opening of the locked safety guard from within a hazardous area, to allow personnel to escape and prevent them from being locked in.
The latest in the Euchner Bolts line is the plastic series which allow for wash down situations. These heavy duty plastic bolts can be used on doors where metal bolts are too heavy.
FEATURES
Form a mechanical locking mechanism
Available for all EUCHNER safety switches

Extensive product range
Products refined in every detail
BENEFITS
Actuator is accurately guided into the actuation head of the safety switch.

Prevents damage to the safety switch
Actuator is safety guarded

If the safety door is shaken, the force is transmitted to the mechanically strong bolt and not to the safety switch
Allows one or more padlocks to be attached to lock the bolt in the open position during set-up and service
For more information:
Euchner-U.S.A., Inc.
6723 Lyons Street
East Syracuse, NY 13057
USA
Phone:(315) 701-0315
You have successfully added from to your part list.
---