Switch on Safety with the CES-AH Safety Switch
Product Announcement from Euchner-U.S.A., Inc.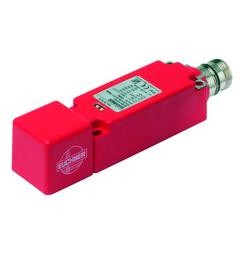 Improve the safety of your workplace with the EUCHNER CES-AH Safety Switch. For a variety of seemingly good reasons, machine operators and maintenance personnel sometimes attempt to bypass machine guards, creating safety hazards for themselves and coworkers. It is imperative that this behavior be controlled. Thankfully, EUCHNER offers the CES-AH Safety Switch. This switch will help you improve workplace safety by dramatically reducing the potential of intentional bypass and simultaneously providing protection from serious injury.
The EUCHNER CES-AH Safety Switch offers a brilliant combination of features such as an inductive read head/ evaluation unit and a digitally encoded actuator. This switch's uniquely coded actuators provide superior protection because, unlike universally coded switches, they cannot be easily bypassed. Best of all, this product's capabilities are versatile enough that it can be used in almost any application where safety and reliability are a concern. In essence, the CES-AH is a stand-alone safety system that incorporates internal diagnostics and switches 4 amps!
Due to the unique capabilities of this product, it is suitable almost anywhere where safety and reliability is of the utmost concern.
Benefits include:
Provides high level of tampering resistance
Fault diagnostics minimize downtime
Actuators are uniquely coded, offering superior safety to universally coded switches
High level of vibration resistance
Sensors operate through stainless steel
Operates under extreme environmental conditions
Compact design for increased versatility
Long operational life
Switch 4 amps
Safety category 3
PL d
Click here to learn more and view product specifications.
You have successfully added from to your part list.
---