HQ1 Series Hybrid® Capacitors
Product Announcement from Evans Capacitor Company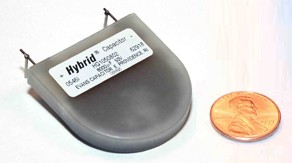 HQ1 series Hybrid Capacitors are perfectly suited for Military "Hand Held" or other high capacitance applications where operating temperatures do not exceed 70C. With the same performance and rating of the tantalum case THQ1, The HQ1 has a polypropylene case that is lighter and less costly than a metal case. The Electrolyte seal is provided by double Viton O rings, for dependable long life. HQ1 has a life of 1,000 hrs with full rated voltage at 70C. Significantly longer life is achieved with lower temperature and voltage de-rate.
Standard ratings:
P/N (Rating): HQ1010503 (50,000 µF at 10V), HQ1016363 (36,000µF at 16V), HQ1025233 (23,000µF at 25V), HQ1035123 (12,000µF at 35V), HQ1050802 (8,000µF at 50V), HQ1063402 (4,000µF at 63V), HQ1080282 (2,800µF at 80V), HQ1100212 (2,100µF at 100V), HQ1125112 (1,100 µF at 125V)
You have successfully added from to your part list.
---