Product Announcement from Everight Position Technologies Corporation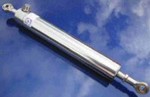 Intrinsically Safe rugged linear position sensors (X111) from Everight Position. Externally mounted, rugged and easy to install linear sensor with a 12.7mm target rod and 8mm rod ends. Available in any stroke length from 50 mm up to 600 mm.
The LIPS X111 is a ruggedised version of the X101 sensor with 12.7 mm target rod for increased strength. It is recommended for high vibration environments and for the longer strokes when used horizontally supported between rod eye bearings.
The LIPS X111 is a robust Intrinsically Safe Linear Inductive Position Sensor for hazardous area feedback applications. The sensor uses Positek's novel inductive technology, PIPS, with simple inductive coils and advanced ASIC electronic technology.
It should be used with a galvanically isolated barrier and from the barrier a range of transmission options are available. The sensor provides a linear output characteristic with displacement and is very compact with built-in electronics. Overall performance is outstanding over a wide temperature range and the output has good frequency response. Full EMC protection is built in.
The sensors are very rugged and are suitable for the most demanding applications. They are sealed to at least IP65 and have a rugged stainless steel body and push rod. The rod can be supplied as a free assembly, with a rod end. The body may be supported by a rod end or by a clamp. Special sensor designs can be produced to suit customer specifications.
Everight Position Technologies Corporation is proud to be the North American Servicing Distrubutor for Positek, Ltd. of Great Britain, one of the premier designers and manufacturers of LVIT linear and RVIT rotary position sensors.
Positek features an extensive standard line of mechanical configurations, electrical input and output options, and ATEX certified intrinsically safe electronics to satisfy a wide variety of industrial and commercial applications. Positek products are also highly customizable, if necessary, to fit the exact requirements of your application.
You have successfully added from to your part list.
---