High-speed, low-light analog APD Receiver Modules
Product Announcement from Excelitas Technologies Corp.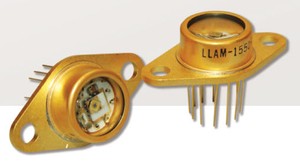 The new LLAM series of avalanche photodiode (APD) modules is the latest addition to Excelitas Technologies' high performance sensors portfolio, featuring an avalanche photodiode chip, thermoelectric (TE) cooler and preamplifier, all in a hermetically-sealed package. The module, supplied in a single modified 12-lead TO-66 flange package, is easy to install and offers additional heat sinking. The use of a TE cooler ensures lower noise and constant responsivity over a 5°C to 40°C ambient temperature range.
Excelitas Technologies' LLAM series modules are specifically designed for the detection of high-speed, low-light analog signals. The LLAM series use the Silicon C30954EH APD and InGaAs C30645EH and C30662EH APDs, with optimal spectral responses between 830 and 1550 nanometers and very fast rise and fall times at all wavelengths.
The LLAM series offers ultra low noise equivalent power (NEP) of < 10-14 W/Hz-1/2, 0.5 mm APD, @15 MHz bandwidth.
Excelitas Technologies' new LLAM series APD modules are offered as standard, commercial off-the-shelf (COTS) products. In addition, Excelitas Technologies offers customized modules tailored from our standard designs; modifications include bandwidth optimization from 1 MHz to 300 MHz, special APDs, and FC-connectorized packaging.
Excelitas Technologies' LLAM series of APD are fully RoHS-compliant.
Features and Benefits
• System bandwidth up to 200 MHz
• Ultra low noise equivalent power (NEP)
• Spectral response range:
- Silicon APD: 400 to 1100 nm
- InGaAs APD: 1100 to 1700 nm
• Hermetically sealed TO-66 flange package for additional heat sinking
• High reliability
• RoHS compliant
• Available in both COTS and custom versions.
Applications
• LIDAR
• Range Finding
• Confocal Microscope
• High speed, extreme low light detection
• Distributed temperature sensing (DTS)
• Analytical instrumentation
• High speed, free-space optical communication
You have successfully added from to your part list.
---