Product Announcement from Exergen Corp.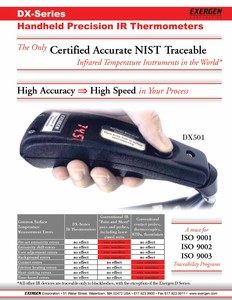 The DX-Series is accurate for ISO 9001, 9002, 9003 traceability, and it is also for improving production speeds wherever temperature is important.
The new handheld IR thermometers from Exergen are ideal for accurate and reliable surface temperature measurements or for more complex tasks such measuring the "R-factor" in building insulation. The DX-Series has been designed with a unique, patented Automatic Emissivity Compensation System (AECS) that creates its own blackbody in order to provide emissivity-free temperature readings. They are the only infrared instruments that can be certified as to NIST-traceable accuracy on real surfaces of unknown or varying emissivity, thereby being completely free of the errors that plague other measurement instruments including contact devices.
The first instrument of the series, the DX501, has a temperature range of -50 to 550°F (-45 to 287°C). Other members of the DX-Series have a sensing range up to 1600°F (871°C). The DX501 requires no calibration and produces a reading in less than 0.1 seconds, for a remarkably quick, precise and easy reading. It is available with a remote probe, and an RS232 connection is also available as an option.
The RS232 option is not available from other IR thermometer manufacturers, and it comes with data logging software, or code can be written by your own software designers for your application.
Industries using the DX Series are R/C Racing, Pharmacutical, Graphics, BioMedical, Automotive, Electrical, Inspection, Food and Beverage, Packaging, Laminating, Oven control, and anywhere where there is an IRt/c installed for calibration purposes.
The only way to get TRUE NIST TRACEABLE TEMPERATURE with any IR DEVICE is the DX SERIES!!
You have successfully added from to your part list.
---