Product Announcement from Exlar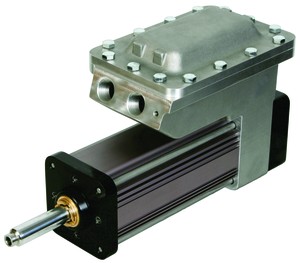 High Performance, Long Life
EL Series integrate a high performance servo motor and a specially designed roller screw mechanism for converting electric motor power into linear motion. The roller screw, which consists of multiple threaded helical rollers assembled in a planetary arrangement around a threaded shaft, is capable of carrying heavy loads for thousands of hours even in very arduous conditions. This, combined with high torque servo motor technology, provides a compact and powerful linear motion solution.
Brushless servo design means EL Series actuators can be used in advanced closed loop servo systems wherever velocity and positioning control is required. This results in a highly reliable system, a primary concern for process applications.
Sealed to Protect Against Outside Contaminants
EL Series actuators offer significant advantages in situations where outside contaminants are an issue. All converting components are mounted within the sealed motor housing. With a simple bushing and seal arrangement on the smooth extending rod, abrasive particles or other contaminants are prevented from reaching the actuator's critical mechanisms. This assures trouble-free operation even in the most severe and demanding environments.
Excellent Hydraulic Replacement
For operation in a process control system, the Exlar electric actuator solution provides many benefits:
High reliability and repeatability.
Servo control provides sophisticated velocity and positioning control capability. Precise positioning is much easier to achieve with an electronic actuator system.
Windows based program makes set-up and operation quick and uncomplicated. Simple slide bar adjustments make tuning the motor and setting up valve commands easy.
Electronic actuation is nearly 2 times more power efficient than hydraulic systems.
Installation and maintenance is nearly trouble-free and much less expensive with an electronic system. Forget high pressure plumbing, pumps and the inconvenience of oil leaks.
The integrated actuator's performance matches that of many hydraulic actuators in force or torque capability, while surpassing them in speed, efficiency and positioning performance.
You have successfully added from to your part list.
---