Product Announcement from Exlar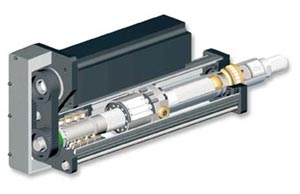 Exlar FT Series force tubes use a roller screw mounted inside a telescoping tube mechanism. The follower is attached to the moveable force tube, which then extends and retracts as the screw rotates. The FT Series is designed to be compatible with a wide variety of standard motors. Motor mounting and gearing configurations are available to meet nearly any application's requirements. The standard product offering includes three frame sizes with strokes from 12 inches to eight feet. The continuous duty thrust load rating is 2000 to 20,000 lbf with a peak load rating up to 40,000 lbf.
As with all Exlar's roller screw products, the FT Series force tubes provide high load capacity, high speed capabilities and exceptionally long life when compared to other actuator technologies, such as acme or ball screws. Other force tube technologies on the market, specifically ball screw and acme screw tubes, are hindered by their limited load/life and speed characteristics. They also require a larger installation footprint than Exlar FT series force tubes.
The FT Series force tube design provides the contamination isolation advantages of hydraulic cylinders without the limited load/life/speed drawbacks of ball or acme screws. All converting components in the FT Series force tubes are mounted within the sealed housing. This prevents abrasive particles and other forms of contamination from entering the actuator's critical mechanisms, assuring trouble-free operation even in the most severe environments.
You have successfully added from to your part list.
---