Product Announcement from Exlar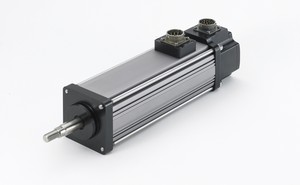 Excellent Ball Screw Replacement

The GSM Series of linear actuators from Exlar provides a cost effective solution, perfect for replacing ball screw actuators. This compact design incorporates Exlar's patented roller screw technology with an integral brushless servo motor for medium to high performance motion control applications. The GSM Series offers a completely integrated actuator, competitively priced with low performance, short-lived ball screw actuators. The GSM design provides a smaller package with higher speed and load capacity than ball screws and other traditional rotary to linear conversions. GSM Series also offers 5 times the travel life of similarly sized ball screw actuators. Selection of the proper feedback configuration allows GSM Series actuators to be powered by nearly every brand of brushless motor amplifier on the market. This flexibility allows GSM Series actuators to be incorporated into the highest performance single and multi-axis motion control systems in use today. In applications varying from food and beverage packaging, to multi-axis turning centers to air-craft assembly, the GSM Series of actuators show incredible performance and durability.
New T-LAM Segmented Lamination Technology
Exlar's new T-LAMTM technology incorporated into the motor design provides a solution with 35% more motor torque. These efficiencies are a result of the limited heat generation qualities inherent in the segmented stator design. The elimination of end turns in the stator, and the use of thermally conductive potting removes the parts most susceptible to failure in a traditional motor.
Other benefits of the new T-LAM technology include:
Neodymium iron boron magnets provide high flux density and maximum motor torque.

Thermally conductive potting of the entire stator provides increased heat dissipation and provides protection from contamination in oil-cooled units.

Each stator segment contains individual phase wiring. External winding of individual segments provides maximum slot fill for maximum motor performance.

Motors with T-LAM technology offer a Class H, 180 degree C, 460Vrms (700VDC) insulation system compliant with UL requirements

Neodymium Iron Boron magnet material

130 degree C continuous rated motor stator temperature

UL recognized component

CE compliant
Features/Characteristics
2.25, 3.3 and 3.9 inch frame sizes
3, 5.9, 10, 12 and 18 inch strokes
0.1, 0.2, 0.4, 0.5 and .75 inch lead roller screws (0.75 lead on 10" stroke and under)
7 to 75 lbf-in torque motor availability
Up to 33 inch per second linear speeds

92 to 1983 lbf thrust capacity depending on motor selection
Front flange, rear flange, rear clevis, trunnion, side, double side or extended tie rods mounting options
Encoder feedback with MS style connectors
Molded and shielded cables available
Black anodized and gray aluminum housing
Cost competitive with ball screw actuators
5 times the life of a similar sized ball screw actuator
UL Class H insulation system compliant

IP54 or IP65 sealing
CE mark
You have successfully added from to your part list.
---