Product Announcement from Exlar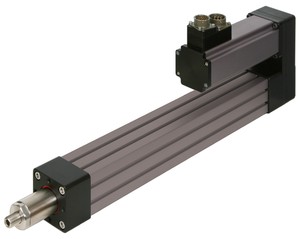 The K Series actuator from Exlar provides an ideal replacement for pneumatic cylinders, with dimensions and form factor consistent with ISO Metric pneumatic cylinder specifications.
The availability of high performance planetary roller screw drive allows the K Series to also replace hydraulic cylinders and provide a solution that offers superior life and performance to ball screw actuators.
Multiple Models to Fit your Needs
Four product performance levels are available so you can choose which option best suits your application and budgetary requirements.
KT Series incorporates Exlar's highest performance precision planetary roller screw. The KT option is perfectly suited for high load and high cycle rate applications where maximum life is required.
KX Series provides a high performance planetary roller screw for performance far superior to competing actuator technologies. The KX is an ideal choice for demanding applications in industrial automation, mobile equipment, process control and others.
KM Series gives you the benefits of planetary roller screw technology over ball screws at a very economical cost.
KA Series actuators are constructed with an ACME screw for low duty cycle applications with 2.54 mm and 5.08 mm leads. The KA Series can provide non-back driving solutions with a 2.54 mm lead. The KA Series is an excellent choice for applications that position and hold a load, or need effective low duty cycle electro-mechanical motion.
K Series Features
Proven Exlar roller screw technology
Flexible mounting options
Adapts to various types of motors
Optional gear drives for high force output from lower motor torques
Mounting of Any Type Motor
The K Series allows for complete flexibility in the type and style of motor to be mounted to the actuator. You can select mounting provisions for brushless servo motors, stepper motors, DC brushed motors or other types of motors for driving your K Series actuator.
Universal Mounting Options
The K Series offers a wide variety of fixed and adjustable mounting accessories, consistent with ISO Metric pneumatic cylinder standards. Exlar also offers the user the rare option to have an inline mounted Exlar servo motor with a rear clevis or rear eye mount for pivoting applications. Mounting options include:
Front flange
Rear flange
Rear clevis
Rear eye
Adjustable side trunnion
End angles
Foot mount
Standard Actuator Construction
The standard K Series actuator design provides an anodized aluminum housing for excellent corrosion resistance use in many environments. The standard main rod is nickel plated steel providing excellent wear characteristics.
Input Transmissions
The K Series can be provided with parallel motor mounts with belt transmissions. Ratios of 1:1 to 2:1 are offered standard. Other options include a direct drive inline mount or a base unit without motor mounting provisions.
Sealed Body Design
The standard body design of the K Series provides an IP65 sealed housing and motor mount, when allowable by the design of motor to be used. This allows the actuators to be used in applications where spray is present, without needing to select special options.
Special Materials and Coatings
For applications not served by the standard product design, Exlar offers a variety of special materials and coating options. The aluminum actuator body components can be provided with alternative coatings, such as Type III hard coat anodizing, electroless nickel plating or epoxy coating. The actuator's main rod can be provided in stainless steel construction.
You have successfully added from to your part list.
---