Product Announcement from Exlar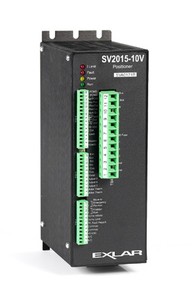 SV2008, 2015, 2035 and 4020 Positioner
The fully digital SV Series Positioners operate from standard process control inputs allowing for simple retrofits of hydraulic or pneumatic actuated valve applications or dampers. SV Series Positioners used with Exlar's high performance linear and rotary actuators can also replace fluid power and low performance electric actuators, eliminating problems associated with actuator failures.
Positioning with the SV Series
Position of the valve or damper can be controlled proportionally in response to an analog input signal allowing for simple control by DCS or PLC systems. Resolver feedback from the servo actuator offers reliable, robust, absolute feedback even in extreme temperature environments. The SV Series Positioner also offers the flexibility of operating with auxiliary linear feedback devices offering full absolute position capability.
Linear and Rotary Process Valve Control
The SV Series Positioner in combination with either Exlar linear or rotary actuators provides a good replacement for hydraulics or pneumatics in process valve applications. Easy and flexible setup allows the user to select the valve stroke, stroking speed and loss of signal mode in a matter of minutes.
Quick Electronic Setup
Valve stroke
Stroking speed
Stroking acceleration
Open/close direction
Multiple homing modes
Fail open/fail closed
Loss of signal modes
Upper and lower limits
Process Control Features
Proportional analog output
Multiple digital inputs and outputs
RS232 and RS485 serial communication
Valve seating control
Auxiliary analog control and feedback capability
Multiple Operating Modes
4 to20mA, -10 to +10 VDC,
0-10 VDC position control
Independent P, I & D gain settings
Versatile
Controller operates all series of Exlar linear and rotary actuators.
Actuators can be configured with a variety of mounting styles to suit your needs.
Actuators are available in Class I, division 1 ratings, Groups B, D & D.
Exlar is pleased to consider the custom requirements of your application.
Easy Configuration with User Interface Software
Exlar's Windows based control software provides a simple-to-use operator interface with which to configure the SV Series for process control applications. Control setup, torque levels, position scaling and tuning parameters are all easily set through this software. PID tuning parameters allow for the combination of drive and motor to be matched to the exact requirements of process control applications.
The SV Series can be configured for hazardous environment use.
The SV Series matched with the EL30 Explosion-Proof linear actuator provides a complete and high-performance servo valve control package.
You have successfully added from to your part list.
---