5kV/60GΩ Insulation Tester/Meg-Gigohmmeter
Product Announcement from Flir Commercial Systems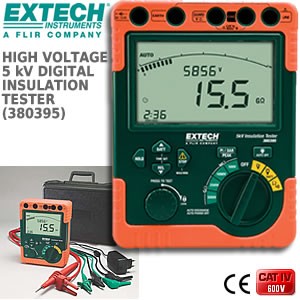 Extech's 380395 High Voltage Insulation Resistance Tester (known by many technicians as a resistance tester or meter, megohmmeter or gigohmmeter) is a powerful, accurate, and affordable meter that provides four Insulation Resistance test ranges (500V, 1000V, 2500V and 5000V) plus Continuity, AC/DC Voltage, Polarization Index and Dielectric Absorption Ratio measurements.
See How it Compares:
If you are evaluating insulation resistance testers or megohmmeters for purchase, be sure to include the Extech 380395 in your comparison.
Key Features for comparison:
• Test Voltages of 500V, 1000V, 2500V, and 5000V
• Measure Insulation Resistance to 60GΩ
• Large, easy to read 6000 count display with bargraph and backlight
• Polarization Index measurement (PI = Resistance after 10 minutes / Resistance after 1 minute)
• Dielectric Absorption Ratio measurement (DAR = Resistance after 1 minute / Resistance after 30 seconds)
• AC/DC Voltage measurement from 0 to 600V with Max/Min, Peak, Relative functions
• Data Hold freezes reading on the display
• 1 to 15 minute timer function for IR measurements
• Autoranging
• Monitor discharge status using the real-time voltage bargraph
• 200mA Continuity test
• Auto-discharge function and voltage output warning function
• Live circuit warnings and detection
• Auto Power off and battery check
• Complete with test leads, 8 x C batteries, AC adaptor, and heavy duty carrying case
CE certified, CAT IV 600V IEC 61010-1 (Pollution degree 2)
IEC 61010-031 (hand-held probes)
Specifications & Ranges
Test Voltage 500V/1000V/2500V/5000V
Insulation Resistance 0 to 6MΩ , 0 to 60MΩ , 0 to 600MΩ , 0 to 6GΩ , 0 to 60GΩ
Accuracy ±2.5% of reading
AC/DC Voltage 0 to 600V
Accuracy ±1% of reading
Resistance 0 to 600Ω
Accuracy ±1.5% of reading
Continuity 50Ω
Power Eight type C batteries
Dimensions 7.8 x 5.8 x 3.4" (198 x 148 x 86mm)
Weight 3.2lbs (1438g)
Note: For 220V markets, please specify the Extech 380396.
Extech meters are available worldwide through our wide network of stocking distributors. For pricing and availability near you, click the yellow Request a Quote or Send an Email button for a prompt response from our distributors.
---