8-in-1 Moisture Meter/Psychrometer/IR Temp & More
Product Announcement from Flir Commercial Systems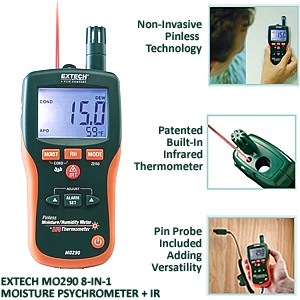 Innovative and Versatile Features:
Measure Humidity, Air Temperature (with built-in probe) plus non-contact InfraRed Temperature
Pinless moisture sensor allows to monitor moisture in wood and other building materials with no surface damage
Remote pin-type probe is also included when contact moisture readings are preferred(3ft/0.9m cable length)
Select from multiple wood types and measurement ranges
Easy to read, large dual display with backlit feature
Simultaneously displays % moisture of wood or material being tested and Air Temperature, IR Temperature, or Humidity
Pinless measurement depth to 0.75" (19mm) below the surface
Non-Contact InfraRed Thermometer with 8:1 distance to spot ratio and 0.95 fixed emissivity
Built-in Humidity/Temperature probe measures Relative Humidity, Air Temperature plus Grains Per Pound (GPP), Dew Point (DP), and Vapor Pressure
Programmable high/low Moisture and Humidity alarms
Automatic calculation of differential Temperature (IR - DP) to determine condensation point
Min/Max and Data Hold, Auto Power Off
Complete with battery and pouch case
Learn More:
Extech Instruments introduces the most versatile moisture meter on the market: the MO290 Pinless Moisture Psychrometer and IR Thermometer . The ingenious new MO290 is an innovative 5-in-1 moisture meter that combines several essential moisture-detecting functions with a patented, built-in non-contact infrared thermometer.
The pinless design permits quick readings of wood and building materials without damaging the surface. Easy to use, the compact meter measures moisture to 19mm below the surface. By also providing humidity, air temperature, relative humidity, grains per pound or grams per kg, dew point, and vapor pressure, the versatile meter truly delivers a "big picture" analysis. Programmable high/low moisture and humidity alarms ensure materials are within required specifications.
Along with the included pin probe, no other handheld moisture meter offers this useful combination of features. For instance, with a direct differential of infrared temperature and dew point readings, a technician can identify cold spots on walls that are at risk of condensation. The easy-to-read dual reading display gives simultaneous access to moisture percentage and air temperature, IR temperature, or humidity. The MO290 is the must-have moisture meter for building inspectors, mold and moisture remediation and restoration, construction, building contractors and concrete and woodworking professionals.
---