Affordable 600A AC/DC Clamp Meter + NCV
Product Announcement from Flir Commercial Systems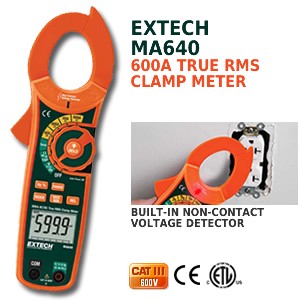 Rugged, affordable clamp meters feature built-in voltage detector
Extech's MA640 AC/DC 600A True RMS clamp meter is designed as a high feature, high value autoranging clamp meter. Along with the AC-only model MA620, the MA640 offers a host of advanced multimeter capabilities plus a built-in, non-contact voltage detector. The affordable clamp meters are compact and easy to hold while offering an ample 1.5" (40mm) jaw opening to accommodate conductors up to 750MCM.
The large, illuminated, dual display is easy to see in poorly-lit job sites and features a 4-digit (6,000 count) readout complemented by a bargraph display. A thumb-dial selector is ergonomically placed for convenient, one-hand operation. Depending on a user's applications, two models are available: AC-only (MA620) and AC/DC (MA640) current measurements.
Advanced digital multimeter functionality powers the new Extech clamp meters. The MA620 and MA640 offer user-selectable auto- or manual-ranging plus class-leading measurement functions including: current, voltage, resistance, capacitance, frequency, duty cycle (dwell), diode and continuity tests - plus temperature using the included Type K thermistor probe.
Convenient one-button functions include: HOLD to freeze a reading on the LCD; MAX/MIN to track and display maximum and minimum values; and REL to activate Relative mode for "zeroing out" the meter, useful for improving the accuracy of DC current measurements.
One important safety tool that is built in to the new MA620 and MA640 is a non-contact voltage (NCV) detector. The detector quickly identifies the presence of voltage on live wires and alerts the user with a red LED indicator. The NCV function eliminates the need for a separate tester, offering users more value, added safety, and less tool bag clutter.
The Extech MA620 and MA640 are CAT III-rated and CE, ETL approved. Each comes complete with test leads, Type K bead wire temperature probe, 9V battery and soft carrying case. Both are available now from stocking distributors around the world. NIST certification is also available.
Both models are also available as part of Extech's MA620-K and MA640-K plant maintenance kits, matched with Extech's 3-phase rotation tester and a CAT IV non-contact AC voltage detector.
To learn more about the new clamp meters and related kits, please visit our website. For pricing and availability near you, click the yellow Request a Quote or Send an Email button for a prompt response from our distributors. Be sure to specify if you are interested in the MA640 (AC-DC) or MA620 (AC only) or both.
Specifications: Range, Max. Resolution, Basic Accuracy (% readings+digits)
Display counts 6000
AC Current (True RMS) 60.00A, 600.0A 0.01A ±(2.8% + 8d)
DC Current (MA640 only) 60.00A, 600.0A 0.01A ±(2.8% + 8d)
AC Voltage (True RMS) 6.000V, 60.00V, 600.0V 0.001V ±(1.8% + 8d)
DC Voltage 600.0mV, 6.000V, 60.00V, 600.0V 0.1mV ±(1.5% + 2d)
Resistance 600.0Ω, 6.000kΩ, 60.00kΩ,
600.0kΩ, 6.000MΩ, 60.00MΩ 0.1Ω ±(1.0% + 4d)
Frequency 10Hz to 10kHz 0.01nF ±(3.0% + 5d)
Capacitance 40.00nF, 400.0nF, 4.000μF, 40.00μF,
400.0μF, 4000μF 0.01nF ±(3.0% + 5d)
Temperature -4 to 1400°F (-20 to 760°C) 0.1° ±(3% + 9°F/5°C)
Duty Cycle 0.5 to 99.0% 0.1% ±(1.2% + 2d)
Diode Yes
Continuity Yes
Dimensions 9.1x3x1.5" (232x77x39mm)
Weight 9.6oz (271g)
---