Affordable FLIR i7 Delivers 140x140 Resolution
Product Announcement from Flir Commercial Systems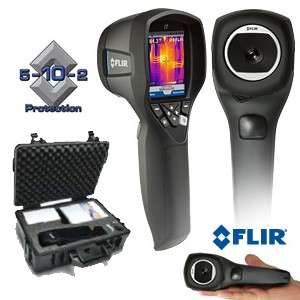 The New FLIR i-Series Compact Thermal Cameras for Building Diagnostics & Predictive Maintenance
Now More Powerful and More Rugged
Still the Most Affordable
Compact and Easy to Use
Quality Thermal Images and Data
The most affordable point-and-shoot infrared cameras just got better, featuring:
Higher resolutions for more detailed images and measurements
Wider fields of view for quicker scans of larger areas
And a more rugged design for tough environments
Get more with the all new FLIR i-Series - putting high-quality, cost-effective thermal imaging in the hands of those who need it most.
Now energy auditors, building inspectors, electrical contractors, predictive maintenance specialists, HVAC professionals, insulation experts, restoration contractors, and many more can have fast, accurate, easy-to-use thermal imaging every day.
SPECS
The new FLIR i7 couples impressive 19,600 pixels (140 x 140 pixel) infrared resolution with a wide 29° × 29° field of view, 2% accuracy and 0.1ºC thermal sensitivity-a robust combination of capabilities to quickly detect moisture issues, missing insulation, HVAC leaks, electrical problems, thermal leaks, and numerous energy-audit-related problems.
The compact FLIR i7 reveals abnormal temperature readings with crisp images displayed on a large 2.8" (71mm) high-resolution color LCD. The FLIR i7 leverages FLIR's extensive user input with a fully-automatic design, intuitive menu navigation, and focus-free lens that make it easy to use even for newcomers to thermal imaging. Three measurement modes are available for extensive analysis of job sites: spot (center), area (minimum/maximum), and isotherm (above/below). Image controls include three palette options: iron, rainbow, and black & white.
The FLIR i7 exceeds RESNET standards for thermographic inspections of buildings.
Up to 5,000 images can be captured and stored on the FLIR i7's MicroSD card (included). Browsing images on the large LCD is easy using FLIR's onboard thumbnail gallery feature. Image transfer to a PC is easy via the MicroSD card or USB connection. Unlike proprietary image formats, FLIR's patented radiometric JPEG format permits you to analyze temperature data directly from a common image format using FLIR's QuickReport™ software (included). Radiometric JPEGs permit sharing images with inspection clients via email attachment, MSWord documents, etc without the inconvenience of cumbersome file export routines.
Weighing 12.8 oz (365 g) with long-lasting, >5-hour battery, the lightweight, easy-grip design ensures maximum ergonomics and minimum fatigue. The FLIR i7 is designed for rough handling with double-molded construction, meeting IP43 dust/splashproof standards, 25G shock rating and 2G vibration rating.
The FLIR i7 infrared camera includes a microsSD card, miniSD adaptor, Li-Ion rechargeable battery with AC adaptor/charger and EU, UK, US, and AU plug, QuickReport™ software, USB mini-B cable, built-in manual lens protector, hand strap, and hard case. The FLIR i7 is available now through distributors and retailers.
____________________________
FLIR i-Series cameras are covered by our revolutionary 2-5-10 Warranty when registered within 60 days of purchase (see details at FLIR.com).
2 Years parts and labor on the camera
5 Years coverage on the battery
10 Years protection on the detecto
Only FLIR can give you peace of mind with a warranty program like this, because only FLIR makes all of the camera's critical components from the ground up.

Play Affordable FLIR i7 Delivers 140x140 Resolution Video
---