EX840 CAT IV 1000A AC/DC Clamp Meter w/Infrared
Product Announcement from Flir Commercial Systems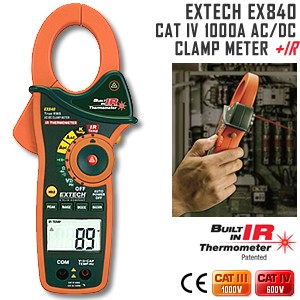 Product Overview:
Extech's EX840 is a powerful yet affordable 1000A AC/DC clamp-on meter designed for heavy duty applications where maximum safety is a must. A 750MCM jaw and Category IV overvoltage protection are coupled with a patented, non-contact infrared thermometer and laser helping you work safer. The EX840 features 1000V range, True RMS, Min/Max/Hold, and a 4000 count LCD in a rugged double molded housing. The EX840 comes complete with a professional test leads set.
Click the yellow buttons at left to request a quote or submit a question/inquiry by email.
______________

Product Details
The full-size EX840 is ideal for industrial applications. Features include:
EX840 CAT IV Clamp Meter Features:
• Patented built-in non-contact IR Thermometer design with laser pointer
• True RMS Current and Voltage measurements
• Peak hold captures inrush currents and Transients
• MultiMeter functions include AC/DC Voltage, Resistance, Capacitance, Frequency, Diode, and Continuity
• 1.7" (43mm) jaw opening for conductors up to 750MCM or two 500MCM
• 4000 count backlit display
• Features include Data Hold and Min/Max and Auto Power off
• Autoranging with manual range button
• Complete with CAT IV test leads, 9V battery, Type K probe (-22 to 572°F/-30 to 300°C), pouch case, and Professional Test Lead Set
Click here for detailed specifications (PDF datasheet).
Professional Test Lead (included) Features:
• 8-Piece Professional Test Lead set
• Two 42" (1m) PVC lead extensions with shrouded banana plugs at both ends
• Two modular 4" (102mm) Heavy Duty test probe handles with 0.16" (4mm) banana plug tip
• Two standard size, alligator clips with insulated rubber boot
• Two extra large, double-insulated, alligator clips with sharp teeth for piercing insulated wire. Jaws open to 0.8" (20mm)
________________________________

About the EX800 Clamp Meter Series
The EX840 is part of the EX800 series of 1000A clamp meters which also features several CAT III AC and AC/DC clamp meters with built-in IR. Extech's multipurpose EX800 clamp meters are the only 1000A clamps on the market with full multimeter capabilities and an Extech-exclusive, integrated, Infrared thermometer. The EX800 series makes it easy to troubleshoot dangerous or hard-to-reach hot spots without a separate IR thermometer. And, when it comes to juggling tools on a job site, less is more.
EX800 clamps deliver with advanced AC/DC clamp and multimeter functionality, True RMS accuracy, and Type K temperature—all in a rugged, double-molded housing. This is one clamp you'll use every day on every job.
Click the yellow buttons at top-left to request a quote or submit a question/inquiry by email.

Play EX840 CAT IV 1000A AC/DC Clamp Meter w/Infrared Video
---