Extech Laser Distance Meter Measures Up
Product Announcement from Flir Commercial Systems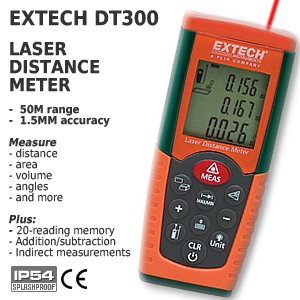 Extech's affordable new DT300 is a compact, pro-grade laser distance meter that makes it easy to measure distances, compute area and volume, and measure angles. Save time and dollars resulting from estimating errors. Users can quickly take measurements with one-button, point-and-shoot convenience.
________________
VIDEO
Watch a video introduction of the DT300
Watch a demo video of the DT300 in use
About the DT300
Even in glare conditions, the DT300's bright laser and large, backlit 3-line display make it easy to measure targets up to 164' (50m) away with 0.06" (1.5mm) accuracy. With its rugged, dust-proof and water-resistant design, users can take this distance meter anywhere. The lightweight pocket-sized meter is ideal for one-hand operation. Useful functions include Min/Max readings; indirect Pythagorean calculations from two or three other measurements; 20 reading memory; easy addition and subtraction; and auto-off.
The DT300 is ideal for building contractors, renovation and remodeling professionals, estimators and sales, electrical and HVACR professionals and anyone who routinely needs quick precise measurements at work sites.
If you are considering laser distance meters, you owe it to yourself and your budget to compare the affordable, new Extech DT300.
VIDEO
Watch a video introduction of the DT300
Watch a demo video of the DT300 in use
____________

Specifications
General Specifications
Laser diode Class 2 red laser (wavelength: 635nm)
Battery Two (2) 'AAA' alkaline batteries
Dust/Splash Proof IP 54
Operating conditions 32 to 104°F (0 to 40°C)
Storage conditions 14 to 140°F (-10 to 60°C)
Dimensions 4.5 x 1.9 x 1.1" (115 x 48 x 28mm)
Weight 5.3 oz. (150g)
Range Specifications
Distance Range 2" to 164' (0.5 to 50m)
Resolution 0.001 inches, feet, or meters
Accuracy ± 0.06" (±1.5mm)
Displayed Calculation Ranges
Length (when adding multiple segments) 99' 11" (99.99m)
Area 999.99 sq. ft. (999.99m2)
Volume 999.99 cu. ft. (999.99m3)
(Specifications are subject to change without notice.)
---