Extech Tweezer Meter: Easy 1-Hand SMD CR Readings
Product Announcement from Flir Commercial Systems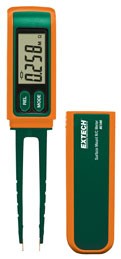 The affordable Extech RC100 SMD Tweezer Meter permits rapid and accurate one-hand readings of chip components (SMDs). 4000 count display shows readings for Resistance, Capacitance, and Diode test. The RC100 functions in relative mode for zero or user supplied reference. Accuracy down to 1.2%/R, 3.0%/C. Convenient slide cover protects tweezers in storage. Plus, auto power-off extends battery life.
Extech's RC100 Tweezer Meter is a CR meter in a set of tweezers. The RC100 features a unique design that integrates high accuracy digital multimeter capabilities with tweezer-sized SMD probes. The RC100's slimline design can easily be used with one hand. The convenient size and probe features permit evaluation of SMD components on a PCB or on a production line as well as rapid identification of SMD components. The unique tweezer design streamlines troubleshooting tasks such as debugging or identifying a failed SMD.
Increase efficiency with testing, sorting and evaluation of SMDs with Extech's RC100!
Specifications

Resistance

Range 400, 4k, 40k, 400k, 4M, 40MΩΩ

Resolution 0.1ΩΩ

Accuracy ±(1.2% of rdg + 3d)
Capacitance

Range 4nF, 40nF, 400nF, 4μF, 40μF, 200μF

Resolution 1pF

Accuracy ±(3.0% of rdg + 5d)
Diode Test

Range 1mA @ 1.5V approx
Dimensions

7.1 x 1.4 x 0.8" (181 x 35 x 20mm)
Weight

2.3oz (65g)
Includes one-year warranty
---