Hi-Def Video Inspection Borescope Camera Series
Product Announcement from Flir Commercial Systems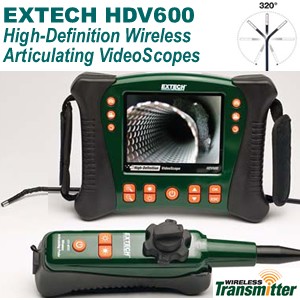 Introducing Extech's Versatile, Rugged, and Upgradeable HDV600 Series of High Definition VideoScopes:
Designed for use in practically any environment, these rugged, waterproof and drop-proof industrial videoscopes deliver images and video with remarkable sharpness and clarity. The new cameras are designed to be intuitive and easy to use for new and experienced users alike.
Extech's HDV600 series offers users impressive versatility with a range of options designed to ensure the right scope for the job, without sacrificing upgradeability.
The HDV600 main display unit features a large and bright, 5.7"( 145mm) TFT LCD monitor that is easy to view in bright outdoor sites, cramped and poorly lit industrial spaces, or aircraft maintenance facilities. The Extech's large display, coupled with quality optics, helps ensure you identify the most minute features or defects during inspections. Users can capture and store nearly 15,000 images or up to 4 hours of video on an easy to transfer SD memory card. Plus, audio annotations can be added to images helping to minimize or eliminate paper note-taking.
Ergonomic grips with adjustable straps make it easy to hold the display while conducting inspections, while the tilt-stand or tripod mount can be used to stabilize the display on any job surface.
Users may attach a number of semi-rigid, flexible, and long-length fiberglass scopes directly to the display unit. And, for expanded inspection capabilities, scope handsets are also available in the HDV600 series (HDV640, HDV640W). Easy to hold for extended periods, handsets are available with wired connections to the main display unit (HDV640) and also wireless models for scope use up to 10 meters away from the display (HDV640W).
Articulated controller handsets feature 6 millimeter scopes and a large, glove-friendly, articulation control knob with adjustable resistance. With easy and precise control of the 320˚ articulated camera tip, the Extech handset simplifies inspections of detail-intensive equipment. Articulated scopes are available in 1m and 2m lengths with rugged, abrasion-resistant insertion tubes.
No two jobs are alike and Extech meets this challenge with optical camera tips of varying diameters including ultra compact 4mm to 6mm scopes. For longer runs, 25mm scopes are coupled to 10m and 30m long reel-mounted fiberglass cables. And, to help brighten confined and dark locations where exterior illumination is limited or absent, all HDV600 camera tips are equipped with bright and adjustable LED lighting.
Extech Videoscopes are made to last with a durable design optimized for challenging industrial locations and all-weather environments. Extech's HDV600 series is one of the few videoscopes to be tested waterproof to IP67 standards and drop-proof to 2 meters (6.5'). Whether you are confronted with stormy weather or a high-dust location, or you accidentally drop your Videoscope, your Extech continues to perform for you.
The HDV600 videoscope series is ideal for use in a range of industries including
· Industrial processing and manufacturing (casting, machining, EDM, welding)
· Aerospace
· Aviation AOG and FBO
· Heavy equipment
· Government, law enforcement, and security
· Power generation
· HVAC
· Building inspection and commissioning
· And more ….
Extech's HDV600 videoscope family offers a wide range of handset, optical, and scope length configurations ensuring you select the best combination for your requirements.
As your needs change, Extech's modular and upgradeable design makes it easy to adapt your videoscope to tackle tomorrow's newest challenge.
Inspect more. Find more. With Extech HDV600 VideoScopes
Click the yellow Request a Quote or Send an Email button to learn more about the HDV600s.

· HDV610 - HD VideoScope with 5.5mm Flexible Probe
· HDV620 - HD VideoScope with 5.8mm Rigid Probe
· HDV640 - HD VideoScope with Articulating Transmitter/Probe
· HDV640W - HD VideoScope with Wireless Articulating Transmitter/Probe
Includes

5.5mm flexible, 60° FOV, macro probe (1m), or
5.8mm rigid, 60° FOV, macro probe (1m), or
articulating transmitter with 6mm semi-rigid probe (1m) with macro lens, or
articulating wireless transmitter with 6mm semi-rigid probe (1m) with macro lens

5.7" color LCD TFT with high definition 640 x 480 resolution
Compact, high-resolution water-proof camera probe
Camera head with four built-in bright LED lamps with dimmer to illuminate viewed object
Glare-free close-up field of view
SD memory card included to store more than 14,600 images
Video recording (up to 4 hours) with voice annotation
AV output for viewing images and video directly on a monitor
Video and images can be transferred to a PC via the SD card or USB output
Optional wireless transmitter allows you to transmit video up to 100ft (30m) from the measurement point to your monitor
Includes SD card, 3.7V rechargable Li-Polymer battery, patch cable, AC adaptor, USB and AV cables, camera probe, and hard carrying case
Optional camera accessories
HDV-TX1...................6mm Articulating VideoScope Camera Head with 1m Semi-Rigid Cable
HDV-WTX1 ...............6mm Wireless Articulating VideoScope Camera Head with 1m Semi-Rigide Cable
HDV-TX2...................6mm Articulating VideoScope Camera Head with 2m Flexible Cable
HDV-WTX2 ...............6mm Wireless Articulating VideoScope Camera Head with 2m Flexible Cable
HDV-4CAM-1FM.......4mm VideoScope Camera Head with Macro lens and 1m Flexible Cable
HDV-4CAM-5FM.......4mm VideoScope Camera Head with Macro lens and 5m Flexible Cable
HDV-5CAM-1FM.......5.5mm VideoScope Camera Head with Macro lens and 1m Flexible Cable
HDV-5CAM-3F..........5.5mm VideoScope Camera Head with long depth of field and 3m Flexible Cable
HDV-5CAM-3FM.......5.5mm VideoScope Camera Head with Macro lens and 3m Flexible Cable
HDV-5CAM-30FM.....5.5mm VideoScope Camera Head with Macro lens and 30m Flexible Cable
HDV-5CAM-10F........5.5mm VideoScope Camera Head with long depth of field and 10m Flexible Cable
HDV-5CAM-1RM ......5.8mm VideoScope Camera Head with Macro lens and 1m Rigid Cable
HDV-5CAM-3R .........5.8mm VideoScope Camera Head with long depth of field and 3m Rigid Cable
HDV-5CAM-3RM ......5.8mm VideoScope Camera Head with Macro lens and 3m Rigid Cable
HDV-25CAM-10G .....25mm VideoScope Camera Head with 10m Fiberglass Cable
HDV-25CAM-30G .....25mm VideoScope Camera Head with 30m Fiberglass Cable
HDV-WTX .................Wireless Transmitter
HDV-PC ....................Spare Patch Cable for HDV Series
---