Industrial CATIV Multimeter & Infrared Thermometer
Product Announcement from Flir Commercial Systems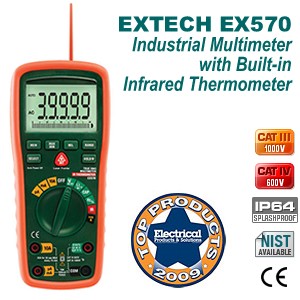 Extech's Cat IV Multimeter is Serious about Safety & Versatility
Designed for the demands of the electrical contractor:
Along with advanced DMM features and True RMS accuracy, the EX570's Category IV rating ensures the highest level of protection against sudden transient overvoltage and arcing flash-over. Plus, the patented, built-in infrared thermometer with laser pointer quickly identifies overheating electrical components from a safe distance.
This rugged, water-resistant multimeter will take whatever rough handling you dish out.
Get Industrial-Duty Protection with Extech's EX570
About the EX570
The Extech EX570 is ideal for industrial, plant maintenance and MRO electrical technicians. In addition to comprehensive multimeter functions, high accuracy (0.06%), and True RMS precision, the EX570 protects users with Category IV-600V (and Category III-1000V) safety ratings. Additionally, the EX570 features an integrated infrared thermometer, a patented function only found on Extech meters.
The new Extech EX570 is designed to withstand harsh environments and usage with a rugged, double-molded housing. The large, illuminated LCD displays a 5-digit readout (to 40,000 counts) and a useful 40-segment bar graph for analog comparisons and quick tests. The EX570 offers a wide array of must-have multimeter measurements (including capacitance, frequency, diode and continuity functions) coupled with convenient, one-button access to frequently used functions: Min./Max., Average, Hold, Relative, and Peak Hold. Store up to three measurements in the onboard memory.
In addition to type K thermocouple temperature measurements, the EX570 offers an integrated infrared thermometer for safe, point-and-shoot, non-contact temperature measurement with a useful 30:1 spot-to-distance ratio. The EX570 not only ensures electrical technicians can perform all essential electrical diagnostics, the built-in IR makes it easy to identify overheating motors, electrical panels, and other components from a distance and without an additional meter.
Complete with double-molded test leads, type K bead wire temperature probe (thermistors), magnetic hanging strap, 9V battery and storage case.
Winner of Electrical Products & Solutions Top Products 2009 Award
The rugged and versatile Extech EX570 industrial-duty digital multimeter with built-in infrared has been awarded a 2009 Top Products Award. The award is given to innovative products by Electrical Products & Solutions magazine and will be featured in the December 2009 issue.
The annual award honors products selected by Electrical Products and Solutions considered to be the top products in the electrical industry. "The products and services chosen are each unique, beneficial and reliable in their own right," says Danny Salchert, publisher of Electrical Products & Solutions.
Extech was recognized for the combination of durability, accuracy, and innovation found in the EX570. The industry's enthusiastic reception of the EX570 demonstrates the burgeoning demand for the high-feature, high-value testers and meters offered by Extech.

Play Industrial CATIV Multimeter & Infrared Thermometer Video
---