Versatile Extech Digital Mini Microscope & Camera
Product Announcement from Flir Commercial Systems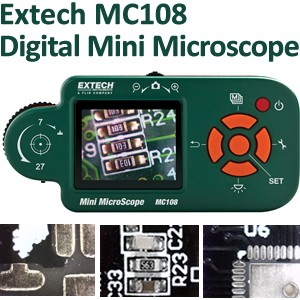 The versatile Extech MC108 mini microscope couples digital camera convenience with microscope optics: optical zoom from 7x to 27x and a 4x digital zoom, effectively providing up to 108x total magnification capability. Weighing only 2.5oz (70g) and more compact than a typical wireless phone, this versatile new digital pocket microscope displays images on a brilliant 1.8" TFT color LCD screen or on your PC monitor in real-time (via USB). Extech's MC108 digital mini microscope is being used in diverse applications such as printed circuit board and soldering inspection; fingerprint verification, counterfeit currency, and forensics investigations; textile and fabric quality control; quality checks for printing including print/color alignment and color matching; plant/horticultural research; as well as gemological appraisals.
The optics on Extech's MC108 work with a 300,000 pixel CMOS photosensor that captures crisp images that are brightened by built-in, adjustable LED illumination (4 white LEDS). Easy-to-use on-board menus permit a user to select five image effect modes: normal, gray, inverse, embossed, and a useful dual-window view which simultaneously displays a magnified image next to the original, unmagnified image. For jobs that require a fixed microscope or for hands-free operation, a microscope stand is included to ensure steady images.
On-board memory stores up to 60 JPEGS at 320x240 pixel resolution. The Extech MC108's software simplifies image download, upload transfers via USB2.0 connectivity and permits full control of the digital mini microscope through your computer with real-time viewing and capture, zoom in/out controls and access to all menus and settings. Onscreen magnification metrics and a reference ruler display add useful comparison and analysis tools.
The MC108 digital mini microscope is available now from Extech distributors. The microscope comes complete with stand, 3 AAA Ni-MH rechargeable batteries, 100 to 240VAC (50/60Hz) adaptor/charger, Windows®-compatible software, mini USB cable, cleaning cloth, and wrist strap.
---