Waterproof ExStik® pH Meter
Product Announcement from Flir Commercial Systems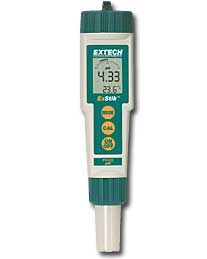 The ONLY Stick style pH Meter with a:
Flat Surface Electrode measures pH in liquids, semi-solids, and solids. No more electrode breakage or clogged junctions.
RENEW indicator tells you it's time to replace your electrode. Eliminates guesswork.
CAL alert tells you it's time to recalibrate. Ensures accuracy.
Memory records and recalls 15 sequentially tagged readings. Allows detection of changes over time.
Analog bargraph displayed on LCD. Shows trends in acidity or alkalinity
More Features/Functions:
• 1, 2 or 3 point calibration automatically recognizes buffer solutions
• Automatic Temperature Compensation
• Simultaneous display of pH and Temperature
• Display indicates when the reading is stabilized
• Data Hold, Auto power off and low battery indication
• Waterproof design floats in water and protects the meter in wet environment
• Interchangeable electrodes give you the versatility to change electrodes
• Optional weighted base (EX006) holds plastic cup and ExStik® meter
• Complete with flat surface pH electrode, protective sensor cap, sample cup with cap, four SR44 button batteries, and 48" (1.2m) neckstrap
---