OralChroma uses Gas Chromatography Technology
Product Announcement from FIS Inc.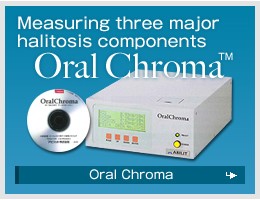 We will exhibit and demonstrate OralChroma at "IDS (International Dental Show)" (March 12 to 16, 2013) in Cologne, GERMANY. New OralChroma will be displayed as a reference product. Our booth No. is C-071 in Hall 2.2.
Three major halitosis components are hydrogen sulfide, methyl mercaptan, and dimethyl sulfide. The OralChroma measures Volatile Sulfide Components (VSC) in the breath and separates them into the above three components. About 1000 sets of OralChroma have been supplied to dentists, universities, and laboratories in the world since 2002.
Separating halitosis into three major components with high precision
Since the OralChroma uses gas chromatography technology, causes of halitosis can be precisely analyzed to confirm breath odor diagnostics treatment.
Simple breath sampling with a supplied syringe
You can freely select where to place the OralChroma without being worried about permanent installation.
Sophisticated data management software attached (DataManager)
DataManager is a graphical software providing halitosis strength level, patient's data history, etc.
* OralChroma is a measuring device.
Specifications
Product

OralChromaTM

Model

CHM-1

Detection method

Simple gas chromatography using semiconductor gas sensor

Sample amount

0.5cc

Detection gas

Following components included in volatile sulfur compounds:

Hydrogen sulfide
Methyl mercaptan
Dimethyl sulfide

Measuring time

8 minutes

Measuring unit

ng/10ml and ppb

Sampling method

Manual sampling with a syringe

Operating humidity

80% RH or less (no condensation)

Operating temperature

10 to 30C

Storage humidity

20 to 90% RH (no condensation)

Storage temperature

-20 to 60C

Power supply

100 to 220V AC 50/60Hz

Power consumption

40VA

Size

280(W)×130(H)×400(D) (mm)

Weight

5.5kg

External connection

RS232C/USB

Attached software

OralChromaTMDataManager
You have successfully added from to your part list.
---