Blending Silo Techniques - Bulk Material Handling
Product Announcement from FLSmidth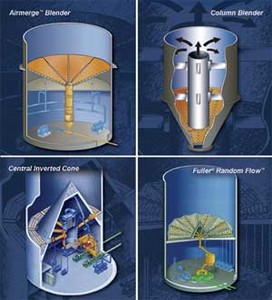 Four powerful solutions to save you time & money - Air and gravity-based equipment for a mixture of energy-efficient, cost effective, low maintenance and space saving blending. At FLSmidth we engineer all our blending silos to maximize the benefits of fluidization and gravity technologies over mechanical…
Technologies that give you operating efficiency, flexibility and increased productivity. Our product range can also combine storage and blending for space saving plant layouts.
Blending Applications
Mixing two or more products
Homogenation of individual products
Size uniformity
Color uniformity
Chemical uniformity
Temperature uniformity
Reduce process variations
Recycle out spec material
Add trace elements
Chemical modification
Fuller® Random-Flow™
Six pie-shaped sectors (each subdivided into six aeration zones) and continuous blending in a timed discharge pattern provide the lowest energy gravity blending silo available. Power consumption on cement raw meal as low as 0.07 kWh / metric ton! New and retrofit installations with minimum downtime.
When an aeration zone is activated, layers are mixed through a funnel effect as material in the zone flows to its designated collection point on the gathering Airslide™ conveyor. The inverted cone prevents material exiting without flowing through a collection point
Features
No moving parts
Low pressure air
Compact PD blowers
Gravity withdrawal
Center or side discharge
Maximum bottom aeration coverage
Small inverted central cone
Benefits
Reduced maintenance
Clean, dry, oil free
Low power usage
Space on ground floor
No segregation
Flexible plant layout
Maximum cleanout
Low installation cost
Maximum storage capacity
Central Inverted Cone
Central Inverted Cone-Air Assisted Gravity Blending. Multiple outlet gravity discharge combined with central cone construction gives advanced gravity blending and storage with a power consumption as low as 0.25 to 0.5 kWh / metric ton of cement raw meal.
Open Airslide™ sections in the flat annulus ensure full clean-out when required.
Material enters the central bin via multiple Airslide blending materials from different areas of the silo floor.
An arrangement of air valves activates sequential discharge and provide a continuous blending of materials from the side of the silo through a funnel effect.
Features include:
Total cleanout
High capacity (6,000 ton +)
High discharge rates (150 tph+)
Controlled flow withdrawal
Reduced silo profile
Discharge equipment located under cone
Minimum dust collection
No segregation
Reduced foundation cost
Airmerge™
A porous membrane over the whole bin bottom, 4 air plenums and a simple flow control system enable air blending by changing the density of material in the fluidized bed of material to generate a gentle folding action and a near perfect blend.
Airmerge Blenders can be designed for batch or continuous operation to meet your requirements.
Porous fabric held with binding strips on top of removable grating panels in the Air Plenum allowing access for fabric to be replaced in place.
Higher air velocities in the blending quadrant lower the bulk density causing the denser material in the three fluidized quadrants to flow into it and be displaced upward in a continuously circulating bed.
Air for fluidization and blending can be supplied from common or separate blowers as required.
Features
No moving parts in contact with the material
Simple operation
Gentle blending action
Low pressure air
~20° slope on fluid bed
Steel flange connection
Batch or continuous working
Standard and FDA fabric option
Benefits
Low maintenance
Long life
No complicated controls
Little dynamic loading
Usually PD blowers
Complete cleanout
New or retrofit installations
System design flexibility
Food applications available
Column Blender
A fully fluidized cone, an upper and lower air plenum and an open-ended central column allow the principle of air blending to be applied to even the most difficult materials.
The fluidizing air enters the cone beneath the column, reducing the density of the material within which is displaced upward as the denser material from the annulus of the cone flows inward.
This "Fountain-Flow" gives a radial circulation capable of blending ultra-fine powders, coarser sandy materials and products with a wide particle size distribution.
Features
No moving parts
Gravity discharge 60° cone design
Simple operation
Robust design
Greater flexibility in particle size range
Design for different batch sizes available*
* Different Batch Sizes
By dividing the central column into two or more separate pieces, the column blender can accommodate different volumetric batch sizes.
In the smaller batches, material is lifted up in the same way but "Fountain-Flow" into the surrounding fluidized bed is via the spaces between the upper and lower column.
Batch volumes must be known for design purposes in advance.
---