Product Announcement from FLSmidth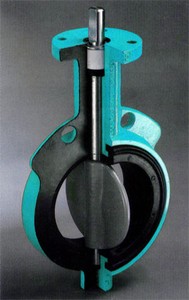 Disc and Stem Connection
Features a high-strength through stem design. The close tolerance connection that drives the valve disc is a special feature of the FLSmidth valve. It eliminates stem retention components being exposed to the line media, such as disc screws and taper pins, which commonly result in leak paths, corrosion, and vibration failures. Disc screws or taper pins, due to wear and corrosion, often require difficult machining for disassembly. Disassembly of the FLSmidth stem is just a matter of pulling the stem out of the disc. Without fasteners obstructing the line flow, the Cv values are higher than many other valves, turbulence is reduced, and pressure recovery is increased. The stem ends and top mounting flange are standardized for interchangeability with FLSmidth actuators.
Disc
Casting is spherically machined, hand polished to provide a bubble-tight shut off, minimum torque, and longer seat life. The disc O.D. clearance is designed to work with all standard piping.
Stem Retaining Assembly
The stem is retained in the body by means of a unique Stainless Steel retaining ring, a thrust washer and two C-rings, manufactured from brass as standard, stainless steel upon request. The retaining ring may be easily removed with a standard hand tool. The stem retaining assembly also prevents accidental removal of stem during field service.
Stem bushing
Non-corrosive, heavy duty acetal bushing absorbs actuator side thrusts
Stem seal
Double "U" cup seal design is self adjusting and gives positive sealing in both directions. Prevents external substances from entering stem bore.
Neck
Extended neck length allows for 2" of piping insulation and is easily accessible for mounting actuators.
Primary and Secondary Seals
The Primary Seal is achieved by an interference fit of the unique molded seat flat with the disc hub. The Secondary Seal is created because the stem diameter is greater than the diameter of the seat stem hole. These seals prevent line media from coming in contact with the stem or body.
FLSmidth Unique Seat Design
One of the valve's key elements is the unique tongue-and-groove seat design. This resilient seat features lower torque than many valves on the market today and provides complete isolation of flowing media from the body. The tongue-and-groove seat to body retention method is superior to traditional designs, making field replacement simple and fast. The seat is specifically designed to seal with slip-on or weld-neck flanges. The seat features a molded O-ring which eliminates the use of flange gaskets. An important maintenance feature is that all resilient seats for FLSmidth butterfly valves are completely interchangeable.
Actuator Mounting Flange and Stem Connection
Universally designed to ISO 5211 for direct mounting of FLSmidth power actuators and manual operators.
Flange Locating Holes
Provides quick and proper alignment during installation.
Body
One-piece wafer style. Polyester coating for excellent corrosion resistance. FLSmidth valve bodies meet ANSI 150 pressure ratings for hydrostatic shell test requirements.
Design Features
The FLSmidth Butterfly valve is a wafer version with flange locating holes. All FLSmidth valves are tested to 110% of full pressure rating before shipment.
Due to a modular concept of design, all FLSmidth handles, manual gear operators, and pneumatic and electric actuators mount directly to FLSmidth valves. No brackets or adapters are required. The standard FLSmidth design includes the pneumatic actuator.
FLSmidth interchangeability and compatibility offers you the best in uniformity of product line and low-cost performance in the industry today.
Polyester Corrosion Protective Coated
FLSmidth's standard product offers valve bodies with a polyester coating, providing excellent corrosion and wear resistance to the valve's surface. The FLSmidth polyester coating is a hard, gloss finish.
Chemical Resistance - resists a broad range of chemicals including: dilute aqueous acids and alkalies, petroleum solvents, alcohols, greases, and oils. Offers outstanding resistance to humidity and water
Weatherability - outdoor tested, resistant to ultra-violet radiation
Abrasion Resistance - excellent resistance to abrasion
Impact Resistance - withstands impact without chipping or cracking
Recommended Specifications for FLSmidth Valves shall be:
Polyester coated, cast iron, wafer bodies
Through-stem direct drive design requiring no disc screws or pins to connect stem to disc with no possible leak paths in disc/stem connection
Stem mechanically retained in body neck and no part of stem or body exposed to line media
Tongue-and-groove seat design with primary hub seal and a molded O-ring suitable for weld-neck and slip-on flanges. Seat totally encapsulates the body with no flange gaskets required.
Spherically machined, hand-polished disc edge and hub for minimum torque and maximum sealing capability
Equipped with non-corrosive bushing and self-adjusting stem seal
Bi-directional and tested to 110% of full rating'
Bi-directional pressure ratings:
2"-12" valves: 175 psi
14"-20" valves: 150 psi
No field adjustment necessary to maintain optimal performance
The valve shall be FLSmidth or equal
You have successfully added from to your part list.
---