Product Announcement from FLSmidth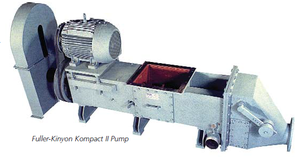 Heavy-duty, pneumatic screw pumps convey dry, free-flowing, pulverized materials anywhere a pipeline can be run.
Features
Dust-free pneumatic conveying
Increased capacity and performance
Low-cost, moderate duty operation
Ideal for hopper bottom car unloading
Fuller-Kinyon™ Kompact Pumps are used to pneumatically convey dry pulverized materials such as Portland Cement, lime stone, bentonite, various ceramic clays and other materials at rates up to 3300 ft /hour (93 m /hour).
These pumps are ideally suited for intermittent operating applications with a limit of 20 psig conveying line pressure for the Kompact II Pump and 12 psig conveying line pressure for the 61V Kompact Pump. Various mechanical or manual loading and distribution methods can easily be replaced with this totally enclosed, dust-free pneumatic conveying system.
Thanks to a low silhouette and short profile, the pump is ideally suited for hopper-bottom car unloading. Fuller-Kinyon Kompact pumps require only a low-pressure, low-velocity air supply to efficiently meet its large throughput capacity.
Operation
Material to be discharged from a hopper bottom rail car enters the pump hopper through a boot lift rail car connection by gravity and is advanced through the barrel by a dynamically balanced impeller screw which is driven through a V-belt drive arrangement with an over-head mounted drive motor - discharging straight ahead, in line with the screw centerline - unlike the M pump, which discharges to the right or left, perpendicular to the screw centerline.
As the material advances through the barrel, it is compacted by the decreasing pitch of the screw flights. It is further compacted by by the space between the terminal flight of the screw and the discharge check valve disc to create the material seal. (This seal serves as the air lock to prevent the conveying air from blowing back through the barrel.)
The material then enters the mixing chamber, where it is fluidized by compressed air introduced through air nozzles. From there, the material and air mixture enter the transport pipe.
Click Here for more information.
You have successfully added from to your part list.
---