Reagent Handling Systems for the Power Industry
Product Announcement from FLSmidth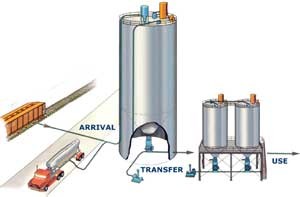 Transport and Unloading
In-Plant Transfer
Flue Duct Injection
Boiler Injection
Railcar Unloading
Pressure System
For high unloading rate
Utilizes under-track hopper to dump entire car, then pressure tanks or feeder/airlocks for line charging
Can be designed with dust capture system at hopper
Vacuum System
Relatively low rate (10 to 20 STPH)
Utilizes hopper pan: either multiple hook-up or manually moved from hopper to hopper
Maximum practical hose connection is 8"
No need for pit under railcar
Vacuum/Pressure System
Increased convey rate compared to vacuum only (20 to 30 STPH)
Pressure side either feeder or tank based
Fluid Bed Boiler Injection
Powdered limestone
Convey rates commensurate with process requirements
Pressure conveying in dilute phase - utilizes feeder/airlocks blowers and splitters
Flue Duct Injection
System often installed usually as part of an SCR (NO reduction technology)
Reagents include hydrated lime, MgO, soda ash
Variable system injection rates
In-Plant Transfer
Sample Applications
Reagent from long term silo to day bin
Reagent prep facility to silo or day bin
Design Features
Suitable for all reagent type products
Primarily pressure conveying in dilute phase. Utilizes feeder/airlocks, pressure tanks, blowers, divert valves
Often used in conjunction with FLSmidth silo aeration systems for fine reagents
Ceramic Rotary Valve - optimum dependability
The ceramic rotary valve from FLSmidth withstands the toughest materials - in the toughest environments -delivering optimum dependability:
Quick shipment
Easy replacements and new installations
Better performance
Longer life
"We can't say enough about the reliability of this valve. Since its installation 14 months ago, it's been operating 24 / 7, in temperatures of 250º-300ºF, processing upwards of 170,000 tons of fly ash - without repair. That's dependability." - Butch Houseknecht, Operations Manager, Separation Technologies, Inc. (STI), Baltimore, Maryland
You have successfully added from to your part list.
---