ISP Dry Scroll Vacuum Pump
Product Announcement from FMG Enterprises, Inc.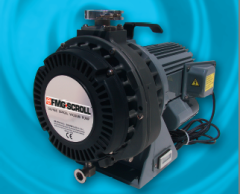 FMG Enterprises, Inc. - Scroll Pumps
A Scroll Pump uses two interleaved scrolls to pump pressurize fluids such as liquids and gases. These devices are known for operating more smoothly, quietly, and reliably than conventional compressors in some applications. Unlike pistons, the orbiting scroll's mass can be perfectly counterbalanced, with simple masses, to minimize vibration.
Scroll Pumps are generally very reliable since they have a low number of moving parts. At FMG, we believe that we are truly partners in your company's success. We will do our best to provide you with the best scroll pump service possible. Join our growing list of satisfied customers by contacting us today.
Specifications
Vacuum Pump Type
Mechanical
Configuration
Individual Vacuum Pump
Application
Industrial
Performance Specifications
Pumping Speed
8.8 to 10.6 CFM
Ultimate Vacuum
0.0120 torr
Technology
Mechanical
Scroll
Physical Characteristics
Mounting
Permanent Installation
Lubrication Style
Dry or Oil-less
Power Source
100-460V 50/60 Hz
Environment
Operating Temperature
41 to 104 F
Contact us today for a quote!
---