Lowest sale in vacuum pumps
Product Announcement from FMG Enterprises, Inc.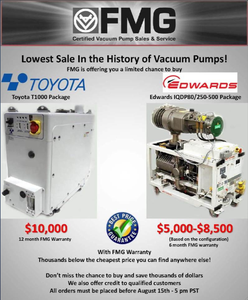 The Toyaota T1000 package is prcied at an all time low with a 12 month warranty
The Edwards IQDP80/250-500 is also prcied at an all time low, and is based on the configuration. Package has a 6 month warranty.
Credit is given to qualified customers and all orders must be place by August 15th, by 5pm PST.

Play Lowest sale in vacuum pumps Video
---