Turbo & Cryo Pumps
Product Announcement from FMG Enterprises, Inc.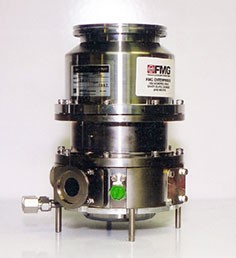 For applications, process and maintenance engineers in Semiconductor Fab, R&D and product manufacturing who depend on turbo molecular vacuum pumps for high vacuum processes, the FMG Certified™ Rebuilt Turbo Pumps provide a far more cost-effective alternative than expensive new OEM pumps. Unlike OEM and other secondary pump rebuilders, our rebuilt Turbo pumps are Certified to incorporate the most rigorous standards for evaluation, rebuild, balancing and testing, and incorporate the highest quality OEM or ceramic bearings. In addition, we have rebuilt Turbo pumps from virtually all major manufacturers to OEM or better specifications, performance and reliability.
OVERVIEW
When FMG reviews the failure of Turbo pumps, we typically find 3 modes of failure: process, bearing wear and catastrophic. FMG has focused on bearing design as the critical area of a turbo's pump life. As such, we use only the best possible bearings for a given pump. Unlike other secondary rebuilders who often use $15 steel bearings, FMG uses $400 - $1000 Ceramic bearings! Why? Because it's the best way to guarantee the longest possible pump life, and allows us to stand behind the industry's best warranty. We don't strive to be the least expensive - we strive to be the best.
The keys to FMG's reputation for reliability and quality: vertical integration, technician training and knowledge of all aspects of turbo pumps (including controller software and electronics), whether they use conventional bearings or maglev. For example, we balance the rotor independently, and then re-balance the total rotating assembly in two planes - because even after rotor balance, additional vibration can be introduced in the final assembly process. We also test at many different rotational speeds to assure the turbo pump will work reliably both during spin up and spin down. And, we match the pump to both controller and cable.
PROCEDURES
All FMG Certified™ Turbo Pumps are isolated from other pump rebuild departments to ensure a contaminant-free pump. Balancing and all testing are conducted in a Class 1000 clean room.
Incoming Inspection: Factory-trained technicians disassemble the turbo pump with special FMG or OEM tooling, and measure parts to FMG's Certified Pump tolerances (OEM specs - or better)
Decontamination: Custom FMG sprays and vapor degreasers remove process from parts, which are then vacuum-baked to eliminate any residue
Failure Analysis: Digital pictures of parts and technician observations are entered into the Repairs database for review and reporting
Parts replacement: Bearings (OEM or equivalent, or ceramic), seals, o-rings, sleeves, and rotors are stripped, recoated, or replaced as required to meet FMG Certified™ standards
Rotating Assembly Balanced: FMG uses a state-of-the-art Vibro-Balancer system with the Turbo rotating at multiple speeds
Pump, Controller and Cable set are matched
Final Inspection: A complete Service Report is produced and digitally saved prior to pump shipments -- which use foam packaging, and are palletized
---