Product Announcement from POSITAL - FRABA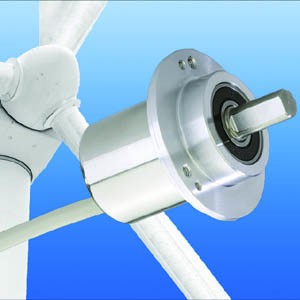 Whether it is the alignment of solar cells with the Sun's rays or the optimization of a rotor on a wind turbine, accurate and precise position knowledge is crucial to maximizing efficiency.
Read more about the impact of these sensors in our article in Design Product News 'Little Sensing Giants of Wind, Solar Energy' November 2012
Wind Turbines
Wind turbines typically have two control systems responsible for optimizing energy production:
a yaw control system, which keeps the turbine pointed directly into the wind; and
a pitch control system, which adjusts the angle of the turbine blades in response to changes in wind speed.
For both of these systems, rotary encoders are used to translate the position of the mechanical components into electronic signals for the control system.
Solar Power
Advanced photovoltaic solar power installations often use aiming systems to keep the solar arrays pointed directly at the sun as it moves across the sky. Tracking/aiming systems are even more critical for solar-thermal systems which use arrays of parabolic mirrors to focus the sun's energy on a small collector or boiler. Rotary encoders and inclinometers provide the vital link between the physical position of the solar arrays or mirrors and the control system. YouTube Solar Video
POSITAL IXARC rotary encoders and TILTIX inclinometers are widely used in both wind turbines and solar energy systems. They are accurate, reliable and have the mechanical robustness and weather sealing needed to stand up to harsh environmental conditions, including wind, rain, dust, vibration and repeated lightning strikes. These devices are available with instrument interfaces that connect easily to most programmable logic controllers (PLC's).
-40 to 85°C (-40 to 185°F) temperature range
Environmental sealing to IP 69k
CANopen, DeviceNet, SSI and analog output interfaces
About FRABA:
The FRABA Group, as one of the leading manufacturers of high technology sensor and safety systems for industrial automation, is committed to excellence in quality and customer service. The headquarters are located in Cologne, Germany. The US subsidiary, FRABA Inc., began operations in summer 2000 to better meet the growing needs of the American encoder market. It is currently located in Hamilton, NJ. Additionally in 2009, FRABA Pte opened in Singapore, thereby providing total global support.
With the POSITAL product range, FRABA strengthens their leadership in absolute encoders, which they have developed for over thirty years. The POSITAL encoders utilize optical technology and integrated intelligence and combine high performance, high quality, and low cost. The FRABA experts support the standard interfaces (serial and parallel), as well as the new fieldbus interfaces like DeviceNet, Profibus, and Interbus. From robotics to steel-mills and packing machines, a wide variety of applications are positioned by POSITAL encoders all around the world.
You have successfully added from to your part list.
---