Product Announcement from Farason Corporation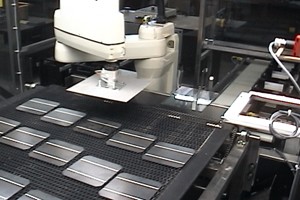 Solar cells exit an oven in a continuous motion fashion on a chain link conveyor belt. An Adept Cobra 800 equipped with vision guidance software utilizes a single overhead mounted camera and top lighting to discern qualified parts from across the entire conveyor belt width and pick them off the conveyor belt.
Cells that are broken on the conveyor are not removed and drop off the conveyor into a collection bin drawer. Picked cells are directed over a second camera for closer vision inspection of a single solar cell to detect small cracks and chips along with breaks on the surface. Rejected parts are segregated from good parts and placed into operator accessible reject collection drawers.
An integrated cassette carrier conveying system transports empty carriers into the cell and stops them within reach of the robot for loading of good cells. Once a pre-specified count has been reached, carriers are indexed to bring in the next empty cassette and discharge the full cassette.
The initial process included handling of 3 different solar cells. Farason created a short section of the oven conveyor with appropriate drive and encoder for testing, debugging and acceptance testing at Farason. Project included responsibility for mechanical, electrical and programming integration with an existing oven and upstream operations.
You have successfully added from to your part list.
---