Silicone Coated Fabrics for Flexible Heating
Product Announcement from Fenner Precision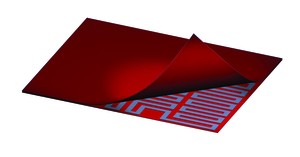 Fenner Precision offers new UL approved silicone coated fabrics for use in high temperature flexible heating applications, including wire-wound and etched foil silicone rubber heaters, which are used in a vast range of markets including: Automotive, Aviation, Transportation, Wind Power, Health & Beauty, Industrial Presses, Freeze and Condensation Prevention, Medical Equipment, Household Applicances, Food Service Equipment, and even Semi-conductors.

Fenner Precision's low modulus silicone materials are designed to bond securely to any substrate, shape or texture and are manufactured to suit specific application requirements. Unsupported, uncured or cured silicone sheeting can be produced in customized colors, thicknesses and widths, as can the range of silicone coated fiberglass fabrics (coated on one or both sides, with uncured / cured silicone as required).

Clients receive personal attention and world-class technical support in order to ensure their flexible heater needs are met - exactly.
---