Ferro's High Performance Coating Gelcoats
Product Announcement from Ferro Corporation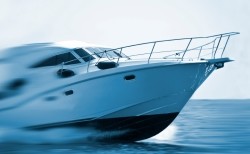 Ferro's High Performance Coating (HPC) gelcoat family are low-VOC products used in the manufacture and repair of boats, wind turbine blades, recreational vehicles, truck bodies, sanitaryware, swimming pools and other polyester and composite parts and castings.
The HPC family is formulated around a new low-viscosity, isophthalic/Neopentyl Glycol (ISO/NPG) polymer backbone. In addition to the new polymer, selective ingredients have been formulated to reduce Hazardous Air Pollutant (HAP) levels by 30-50%, yet yield a durable coating with increased gloss retention.
HPC gelcoats are available in whites and off-whites, blush-resistant darks, and in MACT-compliant Marine and FRP formulations.
Learn more about the Ferro HPC gelcoat product line.
Ferro is almost everywhere you look-in fact, the computer you're using now probably contains our products on its circuit boards.
From your mobile device to your car to your coffee cup, our materials provide strength, beauty, protection or specific performance characteristics to products you enjoy and depend on every day.
Ferro's technologies add value to the products of thousands of manufacturers around the world, and enhance the lives of millions of consumers. Our skills in particle engineering, color and glass science, surface application and formulation allow us to develop materials that meet the most demanding requirements in a wide range of applications.
As a leading innovator, Ferro has pioneered numerous technologies in the ceramics, electronics, glass and pigments markets. Some of our most rapidly growing product lines include inks for digital printing on decorative tiles, metal powders for consumer electronics, innovative solar cell materials, organic coatings and infrared-reflective pigments.
Headquartered in Cleveland, Ohio, Ferro operates facilities in 26 countries and sells products in more than 100 countries. Our global manufacturing footprint spans North America, South America, Europe and Asia-Pacific, and is well-positioned to serve our growing worldwide customer base.
Our more than 5,100 employees embrace a philosophy we call Win from Within, which guides everything we do. The tenets of Win from Within focus on performance, accountability, velocity, operational excellence and a genuine, unrelenting commitment to customer success. We compete and win by continuously innovating and providing superior technical support, product quality and service to our customers.
Our innovative performance materials add value to a wide range of consumer and industrial products in a number of diversified end-use markets. Thousands of manufacturers around the world-including some of the largest and best known-rely on us to ensure the improved performance of their products and processes.
Many of these manufacturers look to Ferro as a total supplier of performance materials for diverse and demanding applications. Supporting our products are highly skilled technical sales and service representatives who work closely with customers to find solutions to their specific challenges.
Electronic Materials Electronic & specialty glasses, ceramic dielectric powders, pastes, powders & tapes for thick film, surface finishing compounds
Color & Glass Performance Materials Inorganic pigments, forehearth color, glass decorating enamels, specialty glazes
Tile Coating Systems Ceramic glaze coatings, ceramic colors, decorative materials & application systems
Porcelain Enamel Porcelain enamel coatings
Pharmaceuticals High-potency active pharmaceutical ingredients, low endotoxin carbohydrates, large volume parenterals
Polymer Additives Heat & light stabilizers, plasticizers, plastic lubricants
Specialty Plastics Filled & reinforced thermoplastics, polyolefin alloys, thermoplastic elastomers/process melt, color concentrates/masterbatch, gelcoats, liquid & paste color dispersions
Products By Product Category:
Active Pharmaceutical Ingredients (APIs), Potent Drugs and Intermediates
Ferro Pfanstiehl Laboratories (FPL) has been a producer of proprietary and cGMP pharmaceutical ingredients for more than 35 years. We provide process development, analytical method development and validation, as well as Drug Master File creation and maintenance. FPL currently maintains more than 20 active Drug Master Files covering APIs, intermediates and injectable drug formulation ingredients.
Ferro is the leading supplier of lead-free enamels for spandrel glass used in office buildings and other commercial facilities. We were the first to develop and introduce lead-free enamels for this market. Over the last decade, almost every glass manufacturer in the U.S. and Europe has shifted to lead-free coatings for spandrels and glass oven doors and furniture, a majority of which we supply.
Ferro was one of the first to develop a lead-free enamel for use around auto windshields that met critical parameters set by the Industry. Lead-free enamels are environmentally beneficial and help auto manufacturers reduce costs and hazardous waste.
Biotechnology companies around the globe know Ferro Pfanstiehl Laboratories (FPL) as a reliable, commercial producer of rare and specialized carbohydrates / sugars. All of our cataloged products can be customized to meet your specific needs.
Ferro Pfanstiehl Laboratories is recognized globally as a reliable producer of commercial quantities of high purity, rare and specialized carbohydrates / sugars. All of our cataloged products have been developed to meet our customers' specific requirements.
CerDeColor® is an extensive line of low toxic metal release and lead- and cadmium-free Decoration Colors to meet the exacting performance demands of the ceramic industry in the 21st century:
CerMark Laser Marking Materials
This patent protected technology delivers permanent marks on metals, glass and ceramic parts for a diverse range of industrial and manual applications, ranging from aerospace to the awards & engraving Industries.
oday, Ferro is one of the largest supplier of ceramic pigments (stains) in the world. We have color plants and laboratory facilities that are located in all of the major ceramic manufacturing countries, in order to provide customers with any needed local technical service. Our pigments are man-made materials, which closely duplicate the properties of their natural parents and have withstood the corrosive action of the sun, wind, and rain for centuries. So it follows that the "artificial mineral" will exhibit comparable properties, such as high stability and chemical inertness.
Today, Ferro is the largest supplier of ceramic stains in the world and the tile business absorbs a great part of them.
Ferro produces a wide variety of silver pastes and special products for automotive glass applications, including heating grids and antennas
The top global glass manufacturers and leading brands more and more specify Ferro lead-free products for glass packaging and table-top glassware.
CORDOBOND® epoxy repair systems
CORDOBOND® epoxy repair systems for industrial, marine, utility and other demanding maintenance applications produce long-lasting repairs with outstanding impact strength, tensile strength and abrasion resistance.
These colors have are produced under the most stringent manufacturing conditions to ensure that contamination from minor material impurities is minimized to a level that does not impact their ability to comply with current legislation on toxic metal release in the global market.
Decoration Media, Covercoats & Auxiliaries
Ferro is one of the major producers of Oils and Media for the decoration of ceramics with a long tradition of pacesetting innovation and continuous product improvement. We offer water-, wax-, and solvent-based media to suit the principal application methods employed in the industry, together with a specialized range of screen printing media and covercoats for the manufacture of both waterslide and heat release decals. For the decal printers, our media and covercoats are available in liquid form and a variety of thixotropic consistencies.
Ferro Dinnerware Systems offers decoration colors and auxiliaries, brilliant dispersible glaze stains (InstantColor®), body stains, inclusion pigments, and frits and glazes for the dinnerware and the ceramic arts industries
Electronic Packaging Materials
Ferro's Electronic Packaging Materials (EPM) business provides a full range of materials and engineered products to meet your needs for hybrid circuits, microelectronics, advanced packaging, and devices
Ferro Pfanstiehl Laboratories (FPL) is the leading US producer of sodium and potassium lactate solutions used to manufacture peritoneal dialysis solutions, lactated Ringer's solution and other large volume parenteral solutions. Pharmaceutical and IV solution producers throughout the Western Hemisphere use our products.
Filled and Reinforced Plastics
On the following pages, you'll see a sampling of the filled and reinforced engineered thermoplastic compounds and specialty polyolefin alloys we manufacture from customized materials to meet highly specific performance criteria to mainstream compounds.
Customers come to Ferro Pfanstiehl Laboratories (FPL) for our advanced capabilities in chemical manufacturing, process scale-up, quality and dependability. For instance, cosmetic producers use ammonium lactate salts in skin care products for their moistening and dermatological properties. The quality of FPL lactate salts is demonstrated by the fact that they were initially developed for pharmaceutical customers for use in large-volume, injectable-grade parenteral solutions and topical pharmaceutical formulations.
Forehearth Color (FHC) Technology
Ferro offers 30 years of experience in FHC technology and design, development and troubleshooting. Almost all colors produced in the tank can be made using FHC technology
Being world leader in frit production, FERRO:
Implements a severe raw material approval and supplier selection process
in compliance with the ISO - 9001:2000 quality system
Has the most advanced frit production technology, with 2 systems of kilns,
continuous and batch, depending on the frit type.
The customer can rely on a highly efficient backup service capable
of delivering an innovative product and adapting it to his conditions
and requirements.
As one of the world's largest suppliers of performance materials, Ferro offers a wide range of ceramic glazes for all applications. We supply most of the world's leading manufacturers of fine ceramics with their ceramic coatings. We offer a customized product, specially developed for each application by a highly-trained and dedicated technical staff.
As befitting the world's largest supplier of Performance Materials, Ferro offers a wide range of Ceramic Glazes for tile applications.
FERRO- THE PERFORMANCE MATERIALS COMPANY
We invite you to contact us, and welcome your inquiries and feedback.
---