Product Announcement from Fibox Enclosures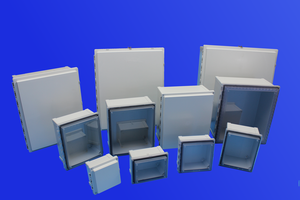 Fibox's ARCA non-metallic enclosures provide users of classic electrical junction boxes an easy upgrade path to a high performance enclosure featuring 21st century technology. Precision, injection molded, ARCA enclosures feature excellent chemical and corrosion resistance and the wide temperature utilization range that only polycarbonate plastic can offer. Available in classic JIC sizes, ARCA features industry standard dimensions and panels.
With custom cut outs and colors available and all the standard hardware you might need Fibox can easily customize your ARCA enclosure and truly make it unique to your application needs.
Fibox Enclosures expands its ARCA™ enclosure product line with the addition of three new sizes, 20 x 16 x 8, 24 x 20 x 8, and 24 x 24 x 10. These three new sizes expand ARCA's product family to ten standard interior enclosure sizes ranging from 6 x 6 x 4″ D to 24 x 24 x 10. This size range targets OEM instrumentation, controls, and automation applications as well as accommodates larger components and high power applications. Stylized ARCA enclosures, manufactured using injection-molded polycarbonate, a high performance plastic, provide ease of customization, robustness, superior chemical resistance, and wide temperature range.
All ARCA enclosure sizes offer opaque or transparent covers and feature an overlapping cover design providing superior protection of the formed-in-place polyurethane (PUR) gasket. Enclosures are UL Listed and NEMA rated Type 4, 4X, 12, and 13. Select ARCA enclosures to protect electrical and electronic equipment in industrial applications including chemical manufacturing, pulp and paper manufacturing, wastewater treatment systems, clean energy including wind and solar, and hostile indoor and outdoor environments.
ARCA's rugged construction achieves a unique appearance without sacrificing robustness. Enclosures come with standard wall mounting feet or optional mounting flanges, for both normal portrait orientation and landscape orientation. Mounting plates plus fixed and hinged inner panels are available in either metal or non-metallic versions. Enclosure latches can be metal or non-metallic, and are available with or without a padlock option.
To request more information on Fibox enclosures, contact us today.
Fibox offers a full range of enclosure customization services based upon years of experience meeting our customers' needs. Our expertise will provide cost effective solutions for your most complex packaging requirements.
All Fibox enclosures can be customized to meet your application's requirements. Sophisticated CNC machinery can fabricate enclosures with holes, cutouts, recesses, and more. Enclosures can be painted, nomenclature can be silk-screened, and accessories can be installed…resulting in delivery of a completed mechanical assembly.
You have successfully added from to your part list.
---