UL Listed Corrosion Resistant Wall Mount Cabinet
Product Announcement from Fibox Enclosures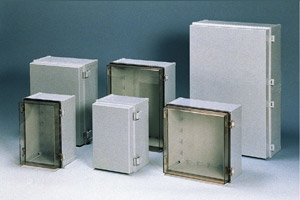 These enclosures offer an optional swing out door and feature an opaque or smoked transparent cover, quick release latches on the long or short side, and a latch or key lock door.
Choose from a wide range of sizes that can be machined, painted, and marked to meet custom requirements. The CAB PC enclosures offer 180 mm (7 in.) depth, width from 200 mm (8 in.) to 600 mm (24 in.), and height from 200 mm (8 in.) to 500 mm (20 in.). A full line of accessories includes front plates, DIN rails, rail supports, mounting and fastening lugs, and internal mounting spacers.
The optional internal swing out door offers a sturdy mounting surface plus quick and easy access to pushbuttons, displays, switches, and other components. The swing out door may be hinged or mounted at several different depths.
Fibox's UL listed CAB PC wall mounting cabinets are available for immediate delivery.
Fibox USA is a RoHS Compliant Manufacturer.
Fibox Inc.
In 1997, Fibox Inc. was established to import and market Fibox enclosures in the United States. While the name Fibox was new to the US, our products were not. Fibox enclosures were sold in the United States on a private label basis to other enclosure manufacturers since the early 1980′s. But with the scope of Fibox products growing larger, and the acceptance of Fibox products into numerous growth segments, like the automation and process control industries, corporate management felt the time was right to establish the US subsidiary and move beyond the traditional electrical wholesaling industry. Fibox Inc. was born.
Fibox Inc. in the United States, a subsidiary of Fibox Enclosure Systems, is located in Maryland, between Baltimore and Washington, DC. This site was selected for its excellent transportation infrastructure, with the deep water Port of Baltimore, the rapidly expanding air hub, BWI Airport, and excellent interstate highway connections. The Maryland location is a fully staffed Fibox Service Center charged with the marketing and sales of all Fibox products. We maintain a large warehouse stocked only with Fibox RoHS compliant products. In 2004, Fibox Inc. added full service, enclosure customization capabilities at its Baltimore, MD offices and warehouse.
Since 1997, the Fibox Brand has grown in stature and recognition within the enclosure industry. Fibox Inc. exhibits at major trade shows, advertises in both electronic and print media, and is a frequent editorial contributor to technical industry publications. Fibox is now considered one of the leading US suppliers of hostile environment enclosures and services customers throughout the United States, Canada, and Mexico.
Experience
Fibox Enclosure Systems, a division of a Finnish company, Fibox Oy Ab, is one of the largest enclosure manufacturers in the world, and is the market leader in thermoplastic enclosures used for protecting electrical and electronic components in hostile and hazardous environments. Fibox recently celebrated over 40 years as a designer and manufacturer of thermoplastic enclosures. Originally a division of the giant Fiskars Corp., Fibox (then called Fiskars Enclosure) pioneered in 1966 the injection molding of polycarbonate for use in the electrical industry. In addition, to pioneering products, Fibox has developed more than 17 ranges of product, all available in a wide range of sizes.
Since leaving the Fiskars' group in 1991, Fibox Enclosure Systems has expanded manufacturing and added sales and marketing service centers. Currently there are three manufacturing sites located in Finland, one in Korea, and one in Guangzhou, China. Fibox has eight Field Service Centers located in major European countries, the United Kingdom, and the United States.
Fibox Oy Ab earned the ISO 9001:1994 Quality Certification for all its operations in 1992. Fibox voluntarily submits its products for third party testing and evaluation, and currently has many third party listings including, UL, CSA, FIMKO, DNV, LR, etc. Fibox enclosures comply with EN 60529.
Whatever your application, the Fibox enclosure family features the widest range of high quality enclosures for the packaging and protection of electrical and electronic components and systems. Enclosures can be delivered in standard off-the-shelf configurations or customized to your exact specifications.
Product Development
The Fibox enclosure range features over 1000 different standard enclosures made of polycarbonate, ABS, fiberglass, and aluminum. Fibox is the industry leader in developing both new products and new technologies for molding thermoplastic enclosures. At Fibox, we consider molding technology an essential part of product development.
For example, the new Fibox MNX enclosure is the first to utilize direct injection of the enclosure gasket material during the body molding process. This new process ensures precision molding of the gasket, guaranteeing superior enclosure protection ratings. Fibox is the only manufacturer applying this technology to enclosures.
The state-of-the-art ARCA product line, the most recent enclosure family brought to market, offers a new era in enclosure technology. Manufactured in standard interior enclosure sizes, using injection molded polycarbonate, a high performance plastic, these stylized electrical enclosures offer ease of customization, robustness, superior chemical resistance, and wide temperature range.
Product development at Fibox also puts emphasis on multiple slide technology for mold construction. While much more costly, this type of mold provides our OEM customers cost-effective alternatives for modifying standard enclosures to meet their specific needs.
Equally important to our technical leadership, is the Fibox commitment to understanding the needs of its customers. All our products are designed in close cooperation with our customers. We use input from our global customer base to produce new enclosure ranges, useful accessories, and on-going product improvements and enhancements.
To request more information on Fibox enclosures, contact us today.
ALU enclosures provide rigid construction, high impact resistance and they can be used at a wide range of operating temperatures. They provide excellent protection against petroleum, hydraulic oils, alcohols and solvents. Aluminum enclosures are electrically conductive. EMC shielding with optional special gasket.
Material : Aluminum
NEMA Type: 1, 4, 4X, 12, and 13
Size Range (H x W x D) in: 2.0 x 1.8 x 1.2 → 23.6 x 12.2 x 7.1
Fibox's new ARCA non-metallic enclosures provide users of classic electrical junction boxes an easy upgrade path to a high performance enclosure featuring 21st century technology. Precision, injection molded, ARCA enclosures feature excellent chemical resistance and the wide temperature utilization range of polycarbonate plastic. Available in classic JIC sizes, these enclosures feature industry standard dimensions and panels.
Material: Polycarbonate
NEMA Type: 4, 4X, 6, 6P, 12, and 13 (enclosures 12.0 x 10.0 in and smaller)
Size Range (H x W x D) in: 6.0 x 6.0 x 4.0 D → 18.0 x 16.0 x 10.0 D
The CAB wall mounting enclosure is a hinged door enclosure featuring both opaque or transparent cover options, and quick release padlockable latches. CAB enclosures are ideal for mounting and housing operator controls and process controllers. Tough, impact resistant polycarbonate withstands harsh and demanding environments.
Material: Polycarbonate
NEMA Type: 1, 4, 4X, 12, and 13
Size Range (H x W x D) in: 7.9 x 11.8 x 7.1 → 23.6 x 15.7 x 8.7
CARDMASTER enclosures are ideal for packaging instrumentation, measurement, monitoring and process control equipment. The CARDMASTER range features two compartments – one for circuit boards and operator controls and readouts, and another one for terminal and interface wiring.
Material: Polycarbonate
NEMA Type: 1, 4, 4X, and 12K
Size Range (H x W x D) in: 6.5 x 6.3 x 4.0 → 14.3 x 12.4 x 6.4
EK enclosures are the ideal solution for applications requiring either single or modular con?gurations. EK enclosures feature one or more ?ange openings, permitting modular assembly of multiple units, and easy management of wiring with a wide assortment of accessory ?ange plates.
Material: Polycarbonate
NEMA Type: 1, 3, 3S, 4, 4X, 6, 6P, and 12
Size Range (H x W x D) in: 7.5 x 7.5 x 5.1 → 29.9 x 22.0 x 9.8
EURONORD enclosures are designed to house DIN-rail mounted terminal blocks and various types of sensors. EURONORD enclosures are available in polycarbonate and ?berglass. There are more than 160 different off-the-shelf versions available.
Material: Polycarbonate and fiberglass
NEMA Type: 1, 4, 4X, 12, and 13
Size Range (H x W x D) in: 2.0 x 2.0 x 1.6 → 11.8 x 9.1 x 4.3
MNX enclosures pioneered using 2 component molding technology for electrical enclosures. These enclosures are designed to house and protect electrical and electronic components in hostile environments. The MNX range now exceeds over 260 variations.
Material: Polycarbonate
NEMA Type: 1, 4, 4X, and 6
Size Range (H x W x D) in: 3.9 x 3.9 x 1.4 → 14.2 x 10 x 6
PICCOLO enclosures are designed to house push buttons, terminal blocks, motor starters and electronic devices. They are also ideal for mounting and protecting process control sensors and switches. The PICCOLO range is available in polycarbonate and ABS.
Material: Polycarbonate
NEMA Type: 1, 4, 4X, 6, 12, and 13
Size Range (H x W x D) in: 4.3 x 3.1 x 2.6 → 9.1 x 5.5 x 4.9
SOLID enclosures are an excellent choice to house electronic and electrical components. The Solid range is an ideal alternative to polyester enclosures. They are available with screw and hinge covers in both polycarbonate and ABS. Continue Reading
Material: Polycarbonate
NEMA Type: 1, 3, 3S, 4, 4X, 6, 6P, and 12
Size Range (H x W x D) in: 7.5 x 7.5 x 5.1 → 22.0 x 15.0 x 7.1
General Accessories
The FIBOX accessory range provides an excellent selection of cable glands, membrane glands, ?anges and cable entry solutions to easily manage cables while maintaining high ingress ratings.Details
Fibox Inspection Windows permit both viewing and access to readouts and controls which are surface mounted on metal or non-metallic enclosures. While providing access, when locked closed, these inspection windows maintain an enclosure environmental rating up to NEMA 4. 12 sizes are available, including four new second generation windows featuring transparent smoked gray polycarbonate for improved UV protection of covered components.
Material: Polycarbonate
Size Range (in): 2.4 x 3.0 → 14.9 x 13.0
Fibox's enclosure ventilation device features a molded in place gasket that ensures a tight seal and eliminates the loose, separate gasket required in older models. This ventilation device can be used with all Fibox and other manufacturers' enclosures, both metallic and non metallic. The ventilators are made of UL 94 V-0 polycarbonate plastic and are suitable for outdoor use. Protection is rated at IP 44. A fan holder accessory, in combination with a standard fan, is available for applications where electronic equipment must be cooled.
Fibox offers a full range of enclosure customization services based upon years of experience meeting our customers' needs. Our expertise will provide cost effective solutions for your most complex packaging requirements.
All Fibox enclosures can be customized to meet your application's requirements. Sophisticated CNC machinery can fabricate enclosures with holes, cutouts, recesses, and more. Enclosures can be painted, nomenclature can be silk-screened, and accessories can be installed…resulting in delivery of a completed mechanical assembly.
At its Baltimore service center, FiboxUSA maintains a customization facility, staffed with application engineers, CAD and CAM programmers, and equipped with modern CNC machinery specifically designed and built for precision plastic machining.
Many packaging solutions utilize Fibox accessories to improve the functionality of the enclosure system. Fibox can provide assembly services and install accessories specified by the end user, allowing delivery of "ready to use" mechanical packaging assemblies, saving labor and speeding manufacturing. The Fibox accessory program includes a large number of items ranging from hinges and latches, cable glands and wiring accessories, to inspection windows and ventilators.
For the customer requiring modification of a Fibox standard enclosure, CAD drawing files are available for use with all major computer design programs. Factory technical assistance is available to help the engineer create the most cost-effective customized enclosure that will meet his needs.
Customization Pointers
Customization impact on enclosure selection. Enclosure size, the operating environment, and the NEMA rating make up the main criteria for selecting an enclosure. Within Fibox's wide range of product, you may find even more than one enclosure choice or you may narrow your selection based on your required features. For example, a cable gland may be needed for wire entry. If a threaded mounting hole is required, a thin wall enclosure may not be suitable for threading and a thicker wall (e.g. 3 mm) enclosure should be selected. If you are unsure of your enclosure selection or the impact of desired modifications, please contact our applications staff. FiboxUSA can guide your enclosure selection and at the same time suggest cost effective customization methods.
Factors impacting cost – After the enclosure, many items can affect cost. From the beginning design phase, Fibox will work with you to advise how to reduce costs. There may be a one time engineering charge to review the design and to program our CNC machinery. As well, usually there is a cost required to set up the CNC machine which is a recurring cost with each machining run of enclosures. Of course, the actual modifications also affect cost. A large cutout for a DIN meter is typically more expensive than a small round hole. A milled recess is more expensive than an open slot. The total time to machine the modification determines the cost.
One of the more significant cost drivers is the number of enclosure sides being modified, because each side requires its own program and each side requires set-up. For example, two holes on each of two sides will be more costly than four holes on one side. Also, the cover, lid, or door is a separate part, requiring a separate set-up and program.
The designer can control cost by understanding that different machining operations may require different tools. Tool changes, even when automatically done, require time. And, more time equals more money. In many cases a simple design change can minimize tool changes. For example, does that cutout corner radius really need to be 1 mm, or can it be 1.5 mm? Fibox personnel will review your design and offer suggestions to reduce cost.
Tight tolerances can be achieved in machining holes and hole pattern relationships, but specifying excessively tight tolerances will increase the cost. The repeatability of machined patterns, unit to unit, is excellent, but the nature of plastic means that overall enclosure dimensions may slightly change due to molding process variations. Dimensioning to piece part centerlines and mold parting lines minimizes the impact of these variations, and results in lower overall cost. Fibox staff is ready to assist with your specification.
Documenting the design – Ideally, the designer should provide Fibox with a computer-aided design (CAD) file indicating the modifications. Fibox provides CAD files of their enclosures, and these should be used by the designer as his starting point. This ensures dimensional accuracy and simplifies drawing interpretation. While a CAD file is ideal, Fibox can work with just about anything. However, additional drawing costs may result. Using Fibox's CAD files during your design will speed the process and lower your overall costs.
Economies of scale – Larger production runs can lower costs, but only up to a point. Ideally, one wants to have a large enough production run to minimize the impact of set-up costs. Customization with CNC machinery is cost effective up to single runs of 1000 pieces. If larger volumes are required, Fibox can more cost effectively supply them using customized molding based upon standard enclosures. The cost for custom modifications of a standard mold is usually much less than the cost of an entirely new injection mold.
Conclusion
Now, more than ever, plastic enclosures offer cost effective value for customized electronics packaging. Specialized CNC machines permit enclosure manufacturers to offer extensive customization services at lower cost and faster turn around times. Then when the volume really takes off, plastic permits easy ramp-up by substituting customized molding for CNC customization. With a basic understanding of the process and the input required, the design engineer can now obtain the most cost effective solution for all ranges of piece part volume.
To request more information on Fibox enclosures, contact us today
---