TURBOCHARGER INSULATION BLANKETS
Product Announcement from Firwin Corp.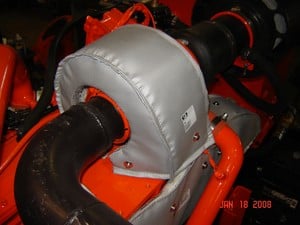 Firwin Corp. has supplied thousands of custom designed turbo-charger insulation blankets for a wide variety of engines. Each blanket is carefully designed to fit the turbocharger of each engine make and model. Turbochargers with waste-gates can also be covered.
Ø FIRWIN TURBO BLANKETS INCREASE ENGINE PERFORMANCE
Firwin turbo blankets reduce the heat loss through the turbo walls. This enhances engine power in several ways:
Þ Higher turbo temperature reduces turbo lag.
Þ Higher exhaust temperature increases exhaust flow.
Þ A Firwin blanket on the turbo keeps the intake side cold. This increases power and efficiency.
Ø FIRWIN TURBO BLANKETS REDUCE TURBO HEAT EMMISSION
Typically, a Firwin turbo cover will reduce the touch temperature of a turbocharger by about 75%.[1] Advantages:
Þ Significantly reduced danger of burns
Þ Significant reduction of engine room temperature making the working environment safer and more comfortable to work in.
Þ Reduces thermal deterioration on surrounding engine parts and fittings.
In addition to turbo insulation, Firwin designs custom insulation solutions for engine manifolds, mufflers and complete exhaust systems.

[1] This value will vary depending on a number of variables such as the actual temperature of the turbo, ambient temperature, and specific insulation type used. At an exhaust gas temperature of 900°F (482°C) a fiberglass Firwin blanket will drop the touch temperature to approximately 230°F (110°C) when the surrounding ambient temperature is 80°F (26°C).
You have successfully added from to your part list.
---