Circular Connectors - Standard and Custom
Product Announcement from Fischer Connectors, Inc.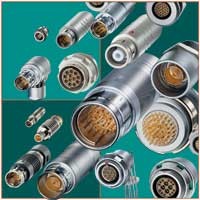 Circular High-Performance Connectors
Our customers trust us to provide them with highly reliable, trouble free solutions that will contribute to the success of their application. Solutions so smooth that they can 'connect-and-forget'.
Selecting the right connector is an important and challenging process. We excel at producing a wide variety of connector body styles and contact configurations. This allows you great flexibility in selecting connector solutions which optimally balance cost and performance.
Our sales and engineering team, in partnership with our customers' specialists, conducts an up-front analysis to understand the specific demands that the application will encounter in the operating environment:

- Cable size and diameter
- Contact number, type and impedance
- Connector size and material
- Temperature range
- Presence of particle contamination (dust, sand, dirt)
- Presence of fluid (water, fuel, oil, food products)
- Vacuum
- Gas or fluid pressure
- Compliance with regulatory agencies norms

Carefully considering these factors enables us to propose a total connector solution that supports targeted performance and cost objectives.
Quality Design, Manufacturing and Production
Using state of the art technology, we are a leader in the design and manufacturing of high-performance connectors. Our automated production equipment enables precision manufacturing of a very wide range of products, produced from an array of high-performance materials ideally suited for use in the most stringent environments. Certified to ISO 9001 (since 1995) and ISO 14001 (since 2001), we embrace total quality through continuous improvement of our people, processes and products. Known for their reliability and precision, our products are used in fields requiring faultless quality, such as medical equipment, industrial instrumentation, measuring and testing devices, broadcast, telecommunication and military applications. RoHS compliant.

For more than 50 years, we have been continuously developing new concepts and our product range comprises over 20,000 connectors and accessories. If our standard configurations do not meet your specifications, we are prepared to invest our time and expertise to provide a customized solution to fit your application.
---