Disposable Low Cost Medical Connector
Product Announcement from Fischer Connectors, Inc.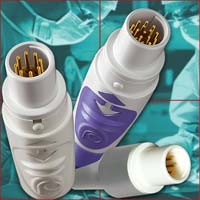 New Disposable Low Cost Medical Connector We have introduced a new connector system that promises to satisfy several of the challenges associated with designing and manufacturing disposable medical devices. The new Limited Use Connector (L.U.C.) TM offers multiple configurations that allow medical device manufacturers to take advantage of mating low cost, disposable plugs with our high-performance metal receptacles for continuous use.
The L.U.C. connector's critical feature is the plastic interface piece designed to accept our standard contact block configurations. Your application design determines what happens behind this interface connection. What makes this system so accommodating, is that you can choose to overmold, utilize a one-piece or two-piece snap-together backshell, or even secure the interface piece right into the handpiece or device itself. The L.U.C. system is ideal for use in virtually any limited-use or disposable medical device, from catheters to surgical hand tools and more.
Additional L.U.C. features include low cost, ease of assembly, lightweight, and customizable: The connector can accept 2-19 pins with solder or crimp contacts. The possible integration of flex circuits adds to the system capabilities. The L.U.C. two-piece backshell version allows for easy insertion of embedded electronics. Three standard colors are available assisting the user to prevent mismating critical connections. Additional custom color options as well as a customizable area in the overmold to insert items such as company logos are available for added aesthetic and ergonomic features. Parts are capable of withstanding EtO and Gamma sterilization processes, conforming with the requirements of the UL/IEC 60601 directives.
For more than 50 years, we have been continuously developing new concepts and our product range comprises over 20,000 connectors and accessories. If our standard configurations do not meet your specifications, we are always prepared to invest our time and expertise to provide a customized solution to fit your application. RoHS compliant.
---