Military Connectors (MIL-SPEC)
Product Announcement from Fischer Connectors, Inc.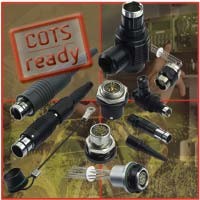 Military Connectors
As a result of the coordinated efforts of many countries to modernize their military forces, today's soldier is equipped with more and more electronic-based equipment, involving communications, GPS/Navigation, computing, night-vision, sensors, and power sources. Among the main worldwide military programs that have recognized the inherent advantages of our connectors, Fischer Connectors is deeply involved in the «SOLDAT DU FUTUR» (LAND -WARRIOR, FIST) and BOWMAN.
Benefits and advantages
- Rugged, Reliable, Sleek - Deployed by military forces worldwide
- Miniature and light-weight design
- Black chrome for minimized reflections
- Push-pull locking, non-locking or Clic-Loc™ System for emergency disconnect
- Fail-safe keying system for proper connections in difficult conditions
- Functional life: 5000+ mating cycles
- Operating temperature: -50°C to +150°C
- Reliable sealing to IP68 or high-vacuum
- 360° EMC/RFI shielding
- Available contacts: Multi-pole, Coaxial, Triaxial, Fiber-optic, Fluid/Gas and Hybrid
- We provide cable system assemblies according to your application
Precision Circular Connectors for Worldwide Applications
Since its inception in 1954, we have been trusted by military, police, and security forces worldwide to develop and produce innovative electronic connector solutions ideally suited for use in a wide range of applications. The long-term partnership established between Fischer Connectors and the industry has created a vast range of interconnection products which are relied upon daily to provide consistent, trust-worthy service in the most demanding and critical situations. We are ideally positioned to provide a complete range of professional services and support to customers - from application consultation, technical support, custom development to delivery. Our organization is committed to provide continuous world-class service and support to each of its customers, from concept to deployment.
Applicable Standards
- ISO 4523 / SAE-AMS2422, gold plating
- MIL-1344, contact resistance
- IEC 60068, IEC 60529 / MIL-STD-202, sealing
Quality Design, Manufacturing and Production
Using state of the art technology, we are a leader in design and manufacturing high-performance connectors. Our automated production equipment enables precision manufacturing of a very wide range of products, produced from an array of high-performance materials ideally suited for use in the most stringent environments. Certified to ISO 9001 (since 1995) and ISO 14001 (since 2001), we embrace total quality through continuous improvement of its people, processes and products. Known for their reliability and precision, our products are used in fields requiring faultless quality, such as medical equipment, industrial instrumentation, measuring and testing devices, broadcast, telecommunication and military applications. RoHS compliant.

For more than 50 years, we have been continuously developing new concepts and our product range comprises over 20,000 connectors and accessories. If our standard configurations do not meet your specifications, we are always prepared to invest our time and expertise to provide a customized solution to fit your application.
---