WHEN WEIGHT MATTERS USE ALULITE™ CONNECTORS
Product Announcement from Fischer Connectors, Inc.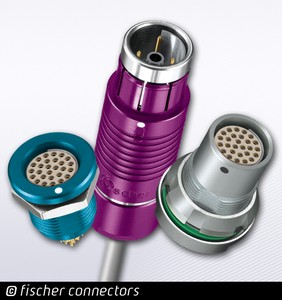 Easy to manipulate hand-held surgical devices, easy to carry hospital or home use therapy systems, in many cases lightweight medical equipment significantly improves healthcare workers' and patients' life. Significantly 50% lighter than typical metal connectors, the new aluminium engineered Fischer AluLite™ Series is your solution to ultralight medical product design.
Ultralight, compact and offering excellent strength to weight ratio, the new Fischer AluLiteTM range is ideal for mobile equipment, portable systems and hand-held devices. Available in a wide range of colors, the Fischer AluLiteTM connectors easily integrate with your product design, while also offering a flexible color-coding system.

The ribbed profile of the connector housings simplifies connect / disconnect operations and makes them convenient to grip even with gloves. Both plugs and receptacles are shielded against electromagnetic interferences and engineered to endure more than 5,000 mating cycles within a temperature range of; -50°C to +150°C. Additionally, the anodized finished connector housing is engineered with an aluminium alloy specifically chosen for its anticorrosion property.

Accepting cable diameters from 1.4 to 10.7mm, the new AluLiteTM series is available in multipole from 2 to 27 pins with solder, PCB or crimp contacts and, upon request, in coax, triax or hybrid contact configurations. The choice of body styles is wide: standard-sized or short plugs, push-pull locking mechanism or emergency release system, front projecting or flush receptacles, front or rear mounting models. This high flexibility of configurations makes it easier to find the connector dedicated to providing a solution to your specific product design.

For more than 50 years, Fischer Connectors has been designing, manufacturing and distributing high-performance connectors and cable assembly solutions. Known for their reliability, precision, and resistance to demanding environments, its products are commonly used in high end electronic equipment such as medical apparatus, scientific or instrumentation devices, defence and security systems.
For more information, log on to www.fischerconnectors.com
---