For Continuous Monitoring of Current
Product Announcement from FLEX-CORE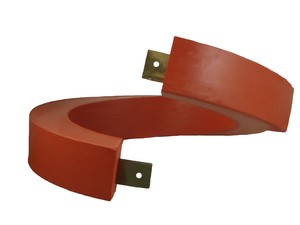 FLEX-CORE SPLIT-CORE CURRENT TRANSFORMERS:
Model FC

This split-core current transformer was designed for easy installation on large bus or wire conductors in order to make electrical load surveys or for continuous monitoring of current.
• For Indoor or Outdoor Use
• Most Ratios Stocked
• Seven Opening Sizes
• Other Ratios Available
• 1, 3, or 5 Amp Secondaries
• Dual Tap Ratios Available
• 0-1 Volt Ac Output Available
• 0-.333 Volt Ac Output Available
• Loop Coil Multiplier Available
• Custom Inserts Available
Model FCL
UL Recognised
Flexible Split-Core Current Transformer
Model 331
Removable Leg
Current Transformer
Models 600, 601, & 617
Split-Core
Current Transformer
Models 615 & 616
Low Ratio Split-Core
Current Transformer
Model CTY
AC Voltage Output
Split-Core
Current Transformer
Specialists in Measurement, Monitoring, and Control of Current, Power, and Energy.
Flex-Core's technology allows them to produce reliable, state-of-the-art products, to fit their customers' individual needs. They have built their reputation on commitment to quality products and customer service.
Products Include:
Split-Core Current Transformers
Split-Core Clamp-On Current Transformers
Solid-Core Current Transformers
Potential Transformers
Relays - Current Switches
Current Transformer/Transducers
Flex-Core is dedicated to providing the most innovative, versatile, and reliable products for today's environment.
---